First Commercial Emirati Flight Lands in Tel Aviv
Flight EY9607 by Etihad Airways between Abu Dhabi and Tel Aviv lands for the first in Israel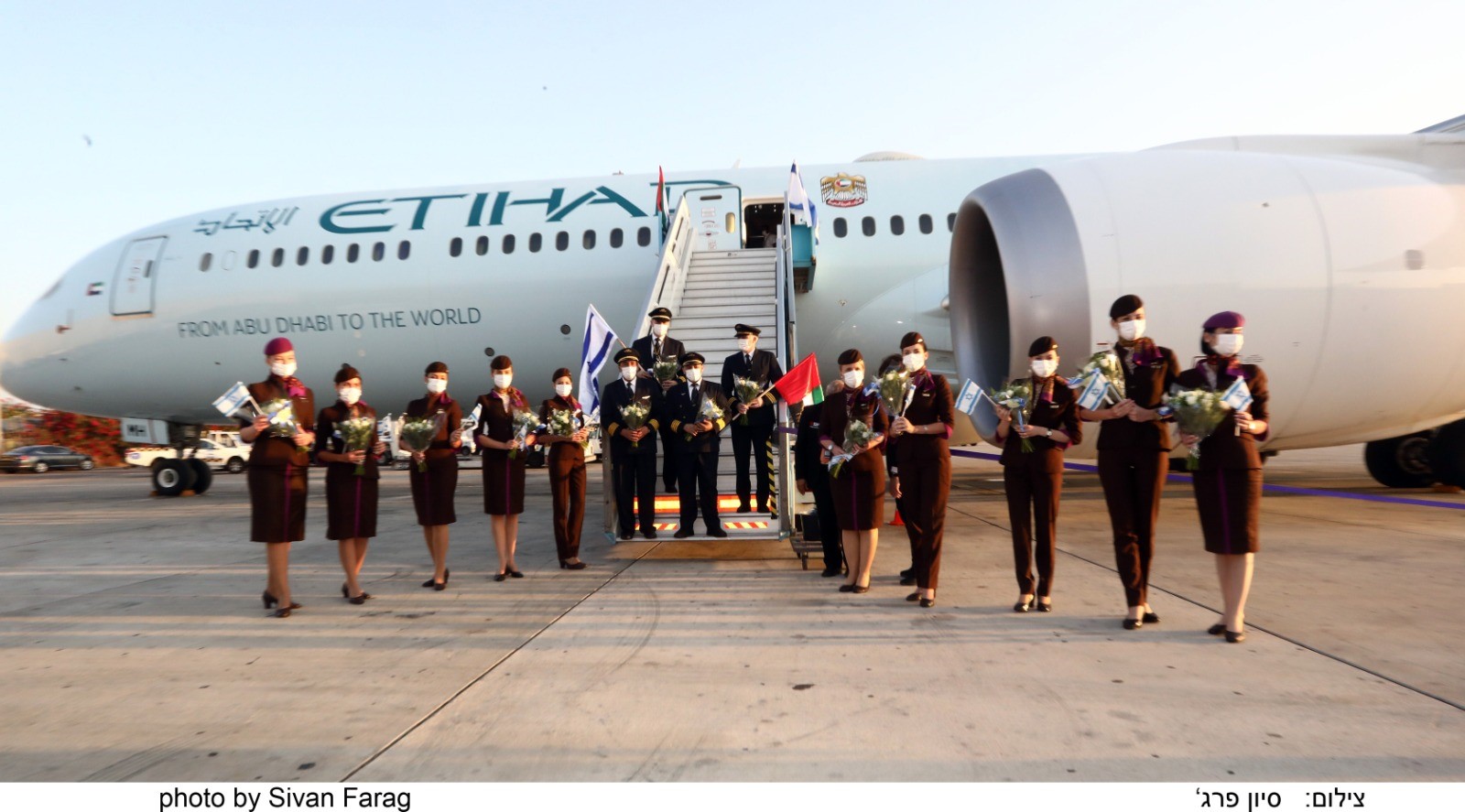 The first commercial flight by Etihad Airways, the national Emirati air carrier, landed in Tel Aviv's Ben Gurion Airport Monday morning.
Flight EY9607 cleared the distance between Abu Dhabi and Tel Aviv in less than three hours, according to Flightradar.
The Emirati Boeing 787-10 Dreamliner touched the ground in Ben Gurion International at 6:58 AM local time — 11:58 PM, Sunday, Eastern Time.
The historic first comes follows the signing of a normalization treaty between the two countries, and a peace accord ratified at the Knesset (Israel Parliament).
As a travel trade mission, the flight will take a group of tourism industry leaders, key corporate decision-makers, travel agents, and cargo agents, along with media to experience Abu Dhabi and the wider UAE, at the invitation of Etihad Airways and representatives of Abu Dhabi's tourism industry.
The journey was done on cooperation with MamanGroup.
The aircraft is a Boeing 787 ׳Greenliner׳ which is considered an environmentally friendly airplane.
Coinciding with the first commercial flight and in celebration of the recent peace accords between the UAE and Israel, Etihad has become the first non-Israeli airline in the Middle East to launch a dedicated website for the Israeli market in Hebrew. Also available in English, the Israeli version of the airline's official website contains digital content including extensive information on Etihad's operations, product, services, and network. The site also includes an Abu Dhabi destination guide. The site can be viewed in Hebrew at www.etihad.com/he-il and in English at www.etihad.com/en-il.
As the UAE's national carrier, Etihad Airways is one of the world's leading airlines, acclaimed for its unparalleled service, industry leading cabins, and genuine Arabian hospitality.
Photo: Sivan Farag