A New Hotel in Tiberias: Sofia - Sea of Galilee
Sofia Sea of Galilee Hotel is located on the ridge at the northern entrance to Tiberias, Israel, within walking distance from the city center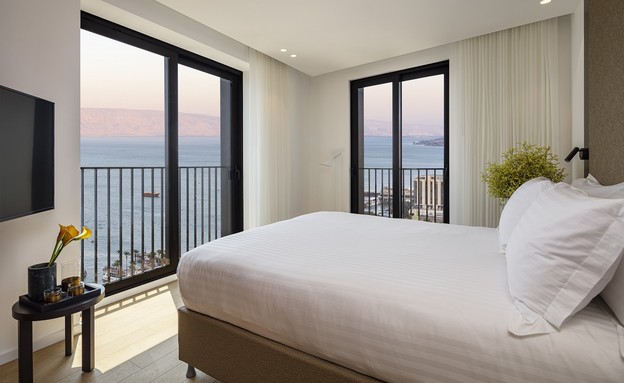 After 6 years of preservation and construction and an investment of 150 million ILS, at the beginning of September (September 1), the Sofia Hotel in Tiberias will open a luxury vacation hotel and spa, owned by the Srugo Real Estate family, they also own the Vista Hotel in Eilat.
The hotel is located in the heart of the city and was built in the heart of an ancient Ottoman stone house from the end of the 19th century that was later used as a government building during the British Mandate. It overlooks the Sea of Galilee and the landscapes of the Galilee and the Golan Heights and aims to provide a new standard of accommodation in Galilee tourism in general and in Tiberias in particular.
As part of the renovations and transformation into a hotel, the building has undergone a rigorous preservation and restoration process. A new building has been added to it and it is as if "riding" over the old building. In addition, the decorated floor tiles, the black basalt stones, the dressed stone pillars, the openings and the proportions of the spaces of the original structure have been preserved.
Sofia Hotel has 120 guest rooms that are suitable for different audiences: families, couples, seniors and people with disabilities. The rooms are equipped with advanced technology, an infinity pool (will be open to the public starting this November), two restaurants, one of which is located on the roof of the hotel and is the only rooftop bar in Tiberias. In addition, a wine cellar, a kids' club, a banquet lounge, a synagogue and more. According to the developers, the highlight of the hotel is the invested and spacious spa complex that includes a Turkish bath and a varied range of treatments.
Prices: Starting at 1,300 ILS per couple per night in the middle of the week on a bed and breakfast basis. Excluding holidays.