Brown Hotels to open 7 new properties in Israel
The chain was founded to bring Tel Aviv's upbeat, vibrant and dynamic culture into the local hospitality scene.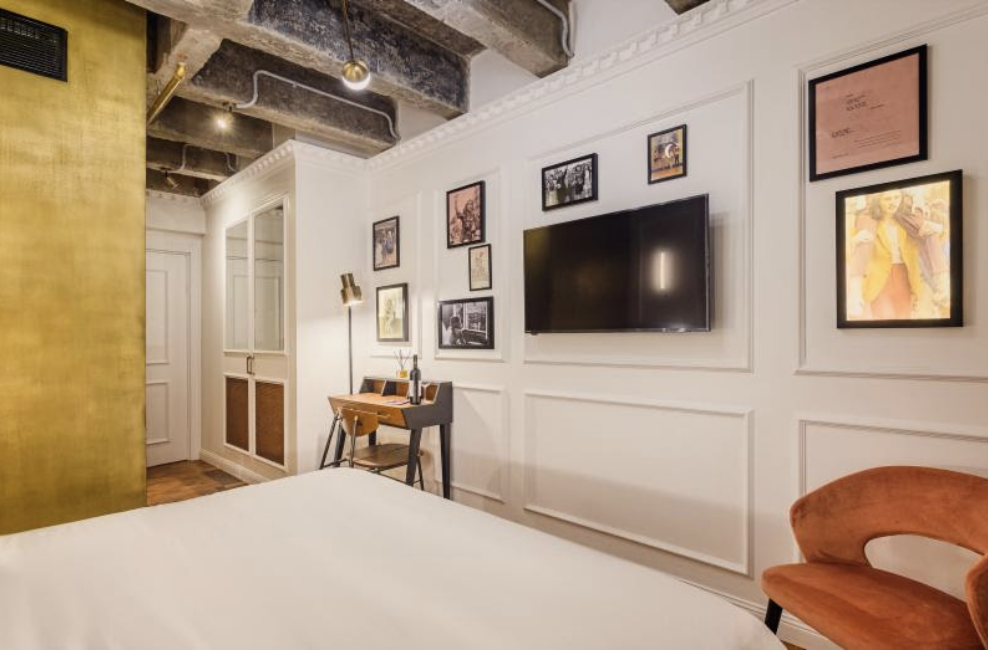 Tel Aviv-based hotel group Brown Hotels has officially announced its plan to open seven new properties in 2019 and 2020 in key cities across Israel, including Tel Aviv, Jerusalem and Ashdod.
Established in 2010 by partners Leon Avigad and Nitzan Perry, Brown Hotels was founded to bring Tel Aviv's upbeat, vibrant and dynamic culture into the local hospitality scene. With a devotion to service, design, innovation, style and authenticity, the original Brown TLV Urban Hotel introduced the city to a new level of boutique luxury emphasizing high design, local culinary excellence and a cocktail scene that has since reverberated across the entire city. Moving rapidly forward, Brown Hotels is opening several new dynamic properties in Israel throughout 2019 and 2020. The new hotels range from upscale and five-star to affordable alternatives including capsule hotels.
The new Brown Hotels openings include:
Dave Levinsky
The Dave Levinsky, which softly opened this month, is the second outpost of the Brown Hotels' affordable brand, Dave Gordon. The brand's downtown counterpart offers chic, low-cost, boutique accommodations in Tel Aviv's hottest up-and-coming neighborhood, just a quick walk to the bustling outdoor Levinsky food market and a stone's throw away from Rothschild Boulevard. Dave Levinsky has 27 rooms and a communal rooftop terrace playing host to a rotating series of pop-ups and performances, much like at Dave Gordon. Guests can expect contemporary design with a vintage twist, with minimal, clean lines and a delicate pink and beige color palette.
The Theodor
This Bauhaus-inspired hotel situated at the beginning of the bustling Rothschild Boulevard is set to open in the fall of 2019. The landmark Bauhaus building will include 34 spacious rooms and suites, as well as a private garden and a restaurant. A contemporary take on Bauhaus, the hotel features vivid geometric designs throughout, black and white color schemes and herringbone wood flooring, all playing tribute to the era. F&B operations at the hotel will be run by the owners of popular neighborhood hotspots Breakfast Club and Cafe Europa.
Hôtel BoBo
This 200-room design hotel created with the 'Bohemian Bourgeois' in mind, will become Brown Hotels' largest property to date and will occupy a former office tower known as 'Menorha Mivtachimn'. Hôtel BoBo will be located on Yavne Street on the crossroads of the prestigious Rothschild Boulevard, with Tel Aviv's culinary and nightlife epicenter at its doorstep. Each room and suite is uniquely designed, offering panoramic views across the cityscape and the Mediterranean sea.
Deborah Brown
Located at 87 Ben Yehuda Street only a few minutes' walk to Gordon beach, the former Deborah Tel Aviv hotel is being renovated and transformed into a full-service, luxury design hotel worth of the Brown Hotels family. This renovated and rebranded property will introduce finesse and glamor to a neighborhood usually associated with mass-market accommodations.
Brown JLM
Set to open in spring 2020, Brown JLM is perfectly located at the very center of Jerusalem. Only a few minutes' walk from the Old City walls, Brown JLM will introduce the contemporary urban style of the Brown Hotels Collection to the ancient city. Overlooking the beautiful Independence Park, Brown JLM is neighbor to the popular Nachalat Shiva and Mamilla pedestrian malls and Jerusalem's new Museum of Tolerance.
WOM Allenby
WOM Allenby is the first location of the new brand of pod-style hotels and is located at 21 Allenby Street, a block away from Tel Aviv's beach promenade. The hotel offers 48 stylish, private and modern pod rooms in both single and double-occupancy arrangements. WOM is a new hybrid accommodation engineered for today's contemporary, urban traveler who values design, a sense of community and the experience of staying in a central urban location at a wallet-friendly price point, officially opening on September 1st.
Brown Machneyuda
Located on the corner of Kol Israel Haverim and Yafo Street, adjacent to the famous Mahane Yehuda Market, Brown Machneyuda is set to be Brown Hotels most refined Jerusalem property yet, opening in spring 2020 with 113 stylish rooms, a sophisticated bar and restaurant and rooftop with panoramic views sweeping across the Yehuda mountains.
"We are elated to write the next chapter of our Brown Hotels story," says Leon Avigad, Founder and CEO, Brown Hotels. "With innovative new properties ranging in scale and audience, we are thrilled to usher in a new era of Israeli hospitality during a period of upward growth in tourism to the country.
In addition to the new hotel openings across 2019/2020, Brown Hotels will expand The Lighthouse Tel Aviv to offer a further 60 guest-rooms, a conference center, a subterranean bar/lounge, gym & spa complex and rooftop pool. Looking beyond 2020, Brown Hotels will grow its portfolio with four more properties in Israel, seven properties in Greece, three in Germany and one hotel in London by 2023.
For more information about Brown Hotels, visit www.brownhotels.com
About Brown Hotels
Brown Hotels is a Tel Aviv-based hospitality group known for its diverse portfolio of design-led, boutique hotels. The hotel's collection includes the acclaimed Brown TLV, Brown Beach House, The Poli House, The Dave Tel Aviv, Villa Brown Jerusalem, Villa Ba'Moshava in Jerusalem, and Brown Beach House Croatia in Trogir, Croatia. Founded in 2010 by Hoteliers Leon Avigad and Nitzan Perry, Brown Hotels evolved out of the desire to create dwellings that not only showed tourists the real culture and creativity of the city's youthful population, but also to expand the nightlife and neighborhood joints for locals. Each of the hotels in the group's collection are unique, independent and imbued with a true sense of place.