Carlton Tel Aviv presents renovations
The hotel reveals its newly designed lobby, corridors, business lounge, work spaces and lobby bar.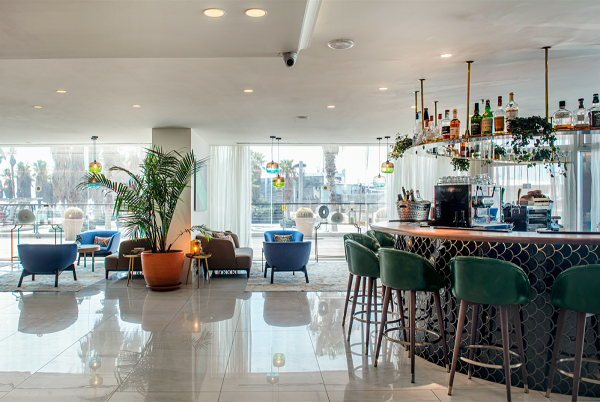 Carlton Tel Aviv, a 268-room and suite luxury property that was voted "Israel's Leading Business Hotel 2019" by World Travel Awards, today officially reveals its newly designed lobby, corridors, business lounge, work spaces and lobby bar.
With the goal of offering guests an infusion of new and artistic decor, lighting schemes, public areas and workspaces, Carlton Tel Aviv commissioned interior design studio Yaron Tal to introduce new and fresh renovations as Tel Aviv continues to excel as one of the world's most attractive destinations for both leisure and business travel.
The renovation aspects of Carlton Tel Aviv include:
Corridors
To make walking through the corridors a more meaningful experience, the new design consists of deep, warm and rich materials. Warm colors such as deep blue and copper are used, and rich materials such as copper and brass. Wallpaper printed with copper accents are to be found throughout the corridors. The unique and reflective, yet romantic lights, gives a sense of lightness in the historic Brutalist building.
Lobby
The idea was to introduce a lighter, less heavy feel to the lobby that is a blend between business and pleasure. Materials such as oak wood, rich fabrics, glass and brass, allow a more formal atmosphere to mix with young and sophisticated, and offers the feeling of a luxury vacation.
Bar
In the old floor plan, the bar was somewhat hidden in the back of the lobby. By bringing the bar to the front of the lobby it becomes more inviting and a central meeting point at the hotel. The bar is now a central area, offering a relaxing environment for breakfast, lunch, dinner and cocktails with a view over the Mediterranean Sea.
In addition to the interior renovations, Carlton Tel Aviv has also rolled out a new collaboration with leading contemporary art galleries based in Tel Aviv. Contemporary art from local artists is exhibited throughout the hotel, including Ohad Benit, Eitan Ben Moshe and Gal Sasson.
General Manager Yossi Navi says: "The redesign of Carlton Tel Aviv is not only about speaking to the international travel trends such as bleisure travel, but at the same time, is also keeping its sense of place, which is one of the most important aspects for the hotel's returning guests."