Dave Levinsky hotel opens its doors
This is a young and playful hotel with a retro design for those seeking a boutique yet affordable stay.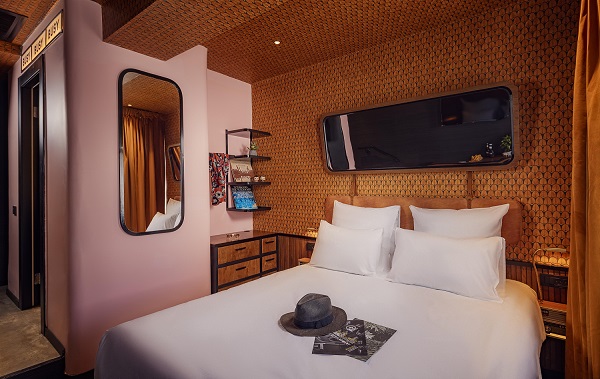 Tel Aviv-born hotel group Brown Hotels, today officially opens the doors to Dave Levinsky; a cosy, 27-room hotel in the trendy south Tel Aviv district. Just a few steps away from Rothschild Boulevard and the bustling Levinsky Market, Dave Levinsky is the second property to open under Brown Hotels' affordable urban hotel collection, 'The Dave', which sits at a lower price point in comparison to other Brown Hotels properties.
Similar to Dave Gordon, the first hotel from the Brown Hotels' sub-brand, Dave Levinsky is a young and playful hotel with a retro design for those seeking a boutique yet affordable stay. Dave Levinsky honors the brands ethos of 'breaking routine', with fun and daring design details appealing to the trendy and adventurous tourists to Tel Aviv's hottest up-and-coming neighborhood.
Architect and interior designer Alona Eliasi is the visionary behind the new hotel, communicating the brand's messaging through a fun and playful aesthetic. Guests can expect a contemporary design with a vintage twist, minimal, clean lines and a delicate pink, beige and oak color palette.
Dave Levinsky offers 22 unique, 14 sqm 'Urban' rooms with comfortable, double beds and five, 18 sqm 'Classic' rooms with double or twin beds. Not dissimilar in style, all rooms display retro design elements like statement, patterned wallpaper, oak paneled drawers and walls and burnt orange velvet headboard and curtains. Both room types boast sophisticated, tiled bathrooms with high-quality linens and bath robes, waterfall showers and toiletries by Israeli brand, Maapilim.
Situated on the 5th floor, the rooftop is a space where guests can relax on one of the sun-beds or take a dip in the jacuzzi. With a stocked bar and views across the lively city, Dave Levinksy will host 'Skyline', a weekly event starting at sunset where hotel guests can enjoy drinks and cocktails whilst soaking up the sunset and listening to a musical line-up of local, Israeli musicians and DJs. As a select-service hotel, guests are directed to one of two, popular nearby cafes in the hotel's vicinity to enjoy a complimentary breakfast.
Leon Avigad, founder of Brown Hotels said: "We decided to grow the 'Dave' sub-brand following the success of the first Dave hotel, and over the coming months, Brown Hotels will see the arrival of two further Dave hotels; one in Tel Aviv and one in Athens. As a growing hospitality group, we remain to strive for diversity in our property portfolio, making Brown Hotels accessible to all."
The Brown Hotels Collection is expanding with the arrival of seven new properties in Israel over the coming year, and further properties across Greece, Germany and the UK by 2023, transforming the Israeli hospitality group to an international hotel brand.