InterContinental David Tel Aviv Executive Premium Rooms
Following renovations across Club InterContinental rooms and the 25th floor Presidential Suite last year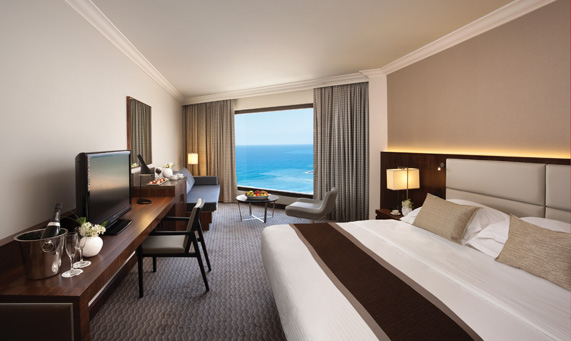 Following renovations across Club InterContinental rooms and the 25th floor Presidential Suite last year, full scale upgrades have been completed across floors 19-20 of the InterContinental David Tel Aviv, with rooms rebranded from Executive Rooms to Executive Premium Rooms.
Upgrades have introduced new carpeting, king size bed and linens, sofa bed, built-in wooden desk, furnishings and marble bathroom with separate shower unit and bath. "We are continuing our ongoing renovations in stages, during periods of lower occupancy, in order to cause the least disruption to our guests," says InterContinental David Tel Aviv Rooms Division Director Sotirios Ikonomou. "Having learned from previous renovations completed at this standard, the operation has become a much smoother process, with two separately employed contractors working at once."
Executive Room Bathrooms
Upgrades, which commenced in January and concluded in April of this year, also include partial renovations to Executive rooms on the 17th and 18th floors, to install new bathrooms. "This type of work involves a lot of drilling to the tiles, which can become noisy, so it was far more practical to renovate all the bathrooms at once, to save further disruption in the future," remarks Ikonomou. "The remainder of upgrades will be carried out to these rooms at a later date." Future renovations across lower floors are slated for the end of 2017/early 2018, with plans also in the works to upgrade the hotel's outdoor swimming pool next year.