New hospitality project opening in hometown of Mary Magdala
The guesthouse opening was delayed for a few years due to the discovery of a whole 1st century city under the site.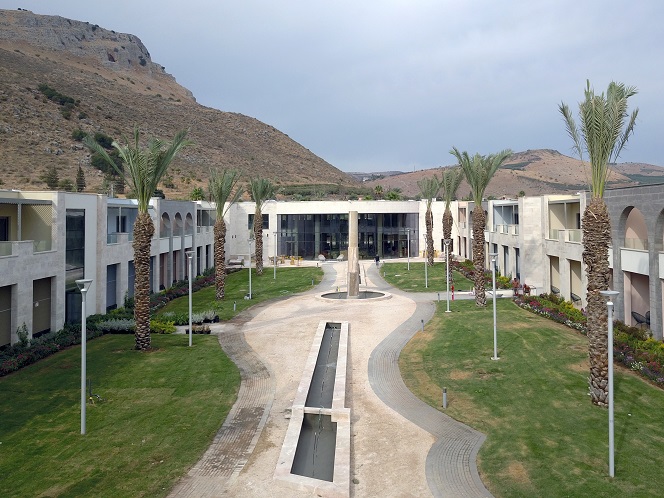 A new hospitality project, part of the Magdala project, which uncovered the ancient first century remains of what is believed to be Mary Magdalene's hometown, is opening its doors this month. The projected guesthouse of 160 rooms, originally scheduled to open a few years ago was delayed due to the discovery of a whole first century city underneath its planned location.
The construction of the project was put on hold, and in conjunction with the Israeli Antiquities Authorities (IAA), the property owners chose to develop the site as a visitor and pilgrimage attraction given its important historical, cultural, and religious significance for humankind. The excavations that followed discovered a striking first century synagogue, a whole market and village area, mikveh's (Jewish ritual baths) fed from natural spring water still working to this day and recognized to be the only in Israel of this type, as well as remains of a prosperous fishing industry, and port.
Most surprising to archaeologists was a precious and ornately decorated stone found within the synagogue believed to contain one of the first artistic representations of the Second Temple of Jerusalem. Coins dating from the years 29 AD – 64 AD were also found on site, providing plenty of excitement for pilgrims who now visit the site and deduce that with its strategic location between Nazareth and Capernaum, and evidence of a strong fishing industry, this site was in fact a very probably location in which Jesus preached along the Galilee, and perhaps to some of those fishermen who became his first followers.
Moreover, the connection of the town to Saint Mary Magdalene has been acknowledged since early times, and even though initial excavations have yet to reveal direct evidence, archaeologists have testimonies from early pilgrims to the Holy Land connecting Mary to Magdala.
The archaeological site opened to the public in 2014, thanks to the generous support of many international benefactors as well as visitors who donated to help uncover the site. Since then, it has rapidly become one of Israel's leading attractions in the Galilee region. In 2018 the site was voted as one the Middle East's top 25 attractions by popular travel site, TripAdvisor, and top 5 in Israel as well, claiming a prized Traveller's Choice Award for that year.
The original hospitality project is now near completion and will certainly have a positive impact in a region that is now developing. The property will feature 160 comfortable rooms most with balconies and views to the Sea of Galilee, the Magdala Archaeological Park or the surrounding nature. Furthermore, it is worth noting that international artist Maria Jesus Fernandez based out of Germany, as well as famous Latin American interior designer Sofia Aspe, collaborated in the overall visual aesthetic and interior design of the guesthouse. With this in mind, as well as its restaurant, cafeteria, pool, meditation gardens, and most importantly its historical connections to first century Israel this property will certainly be amongst the most unique in the region.
The project will be officially inaugurated this upcoming November 24th on the feast of Christ the King due to the importance of this special date. In attendance will be major church figures, including His Eminence Cardinal Aguiar Retes, Archbishop of Mexico, Leopoldo Girelli Apostolic Nuncio to Israel, Mons. Pierbattista Pizzaballa, Apostolic Administrator of Jerusalem, Fr. Eduardo Robles Gil LC, Director General of the Legionaries of Christ and Regnum Christi Movement -the congregation in charge of initiating this project- and other religious leaders, as well as representatives from the Government of Israel, the IAA, and the Mayor of Migdal. The event will be livestreamed through Magdala's website, www.magdala.org,