New Properties for Leshem Group
Hotel Management Company Leshem Group, which develops properties across Israel and abroad, has opened three new hotels: Ramada Resort Hadera; Tryp Jerusalem Bat Sheva, and Ramada Olive Nazareth.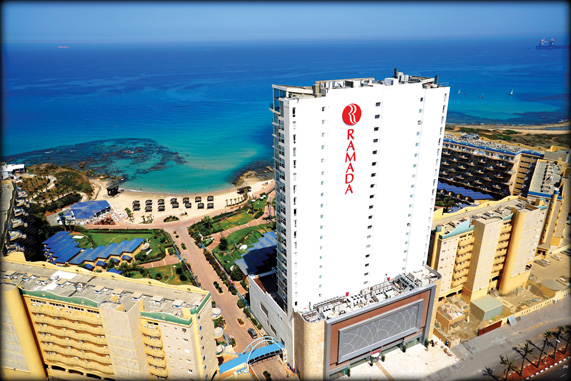 Hotel Management Company Leshem Group, which develops properties across Israel and abroad, has opened three new hotels: Ramada Resort Hadera; Tryp Jerusalem Bat Sheva, and Ramada Olive Nazareth.
The Ramada Resort Hadera, located on Menachem Begin Blvd. opposite Olga Beach, opened after a three-year renovation project to a previously abandoned building. The hotel offers 173 rooms, each with a sea facing balcony, across categories of Premier Rooms (38m²), Panorama Rooms (40²), Premier Suites, (54m²), Panorama Suites (54m²), and Deluxe Suites (54m²). Premiere and Panorama Rooms can accommodate up to three guests and the suites up to four. "The Kfar Hayam vacation complex sits at the base of the hotel, and there are many shared garden spaces leading onto the beach," says hotel Reception Manager Roy Regev. "It's a really tranquil spot within an area developing at pace, both for tourists and locals."
All rooms and suites contain a sofa, refrigerator, dining table, Smart TV offering weather listings and live flight information from Ben Gurion Airport, with half of them offering a shower and bathtub. A selection of rooms can connect to create two bedroom suites: "We cater to a diversity of clients, from business travelers to families, and our facilities are adaptable depending on individual needs."
The 3rd floor dining room houses the Turquoise bar and expands onto an outdoor balcony used as a breakfast and dinner seating area: "The food is reflective of Mediterranean dining, and we have a special blue mosaic taboon for baking breads and other goods."
Two separate event halls are located on different levels of the hotel. "Our 400m² hall is ideal for business conferences, meetings and intimate celebrations," explains Regev. "The room features ceiling-to-floor glass windows, which offer panoramic views all the way to Haifa." In addition, the 1000m² banquet hall has an outdoor terrace, gallery level, and space to accommodate 700 seated or 1000 standing for a reception. "Whether it's an intimate gathering of 20 or a big celebration with guests into the hundreds, our venues promise to provide a memorable experience." Other hotel amenities include an on-site spa, Turkish bath, sauna, Jacuzzi and outdoor playing courts.
According to Leshem Group CEO Moshe Sand, the hotel's initial marketing efforts are focused on soft promotion, word of mouth and reservations through its website. Plans to utilize OTAs and agents are in the works for the coming months.
Tryp Jerusalem Bat Sheva, a 79 room property slated to open in June after a four year renovation project, is located on King George St. in what was previously the Tirat Bat Sheva Hotel. The entrance features a lobby lounge, VIP lounge for private check-in, and the dining room with a connected 100m² outdoor terrace.
"The hotel was in a terrible state. We had to start from the beginning which involved work to both exterior and interior remodeling, rewiring and also expand the room sizes across each floor," outlines General Manager Yosi Shimoni. "This involved removing the old balconies, to increase the floor space of rooms." The hotel offers a mix of 16m² Classic rooms, suitable for single occupancy, 19m² Premier rooms, 21m² Deluxe rooms and the 44m² Bat Sheva Suite. All rooms feature imported Turkish furniture, shower, Smart TV, fridge and safe, with three handicap-accessible rooms. Rooms on floors three and above provide a view onto the Old City.
"Our interior designer, Dana Oberson, has brought together elements reflective of authentic Jerusalem, including designs inspired by Bukharan Jews from Central Asia," says Shimoni. "This can been seen in our mosaicked windows and headboards, with the feel of old Jerusalem manifested through other style elements, including glass design from the 1960s and iron furnishings."
The ground floor dining room, which sits 120 people, provides a kosher dairy Israeli buffet breakfast, with a coffee and juice station open throughout the day on the outdoor terrace. "We also have a fully equipped events hall on the lower ground, which can accommodate around 100 people," says Shimoni. "There is a separate kitchen there, used for serving catered food to groups that specially request half board." Other hotel amenities include a gym, 9th floor "Historical View Bar," separate intimate lounge, with a view overlooking Jerusalem, and parking for up to 26 cars and one bus.
"Our concept, for the brand as a whole, is to provide the best rooms, in the best location, with excellent service," says Shimoni. "We encourage our guests to go and explore the city and are happy to help them with recommendations."
The Ramada Olive Nazareth consists of 195 rooms across two buildings, one with seven and one with five floors, overlooking the Old City. The hotel has a spa complex, with treatment rooms, wet and dry saunas, Turkish bath, a gym and also a banqueting hall.
The Orchid Chain Hotels is expanding its portfolio in Israel with three new hotels under the Setai brand: The Setai, Sea of Galilee; The Setai, Tel Aviv; and The Setai, Dead Sea.