Tourism Officials at the New "Pereh" Hotel
Tourism Minister Yoel Razvozov, Northern Command General Amir Baram, businessmen and heads of councils from the north of the country, inaugurated the mezuzah ceremony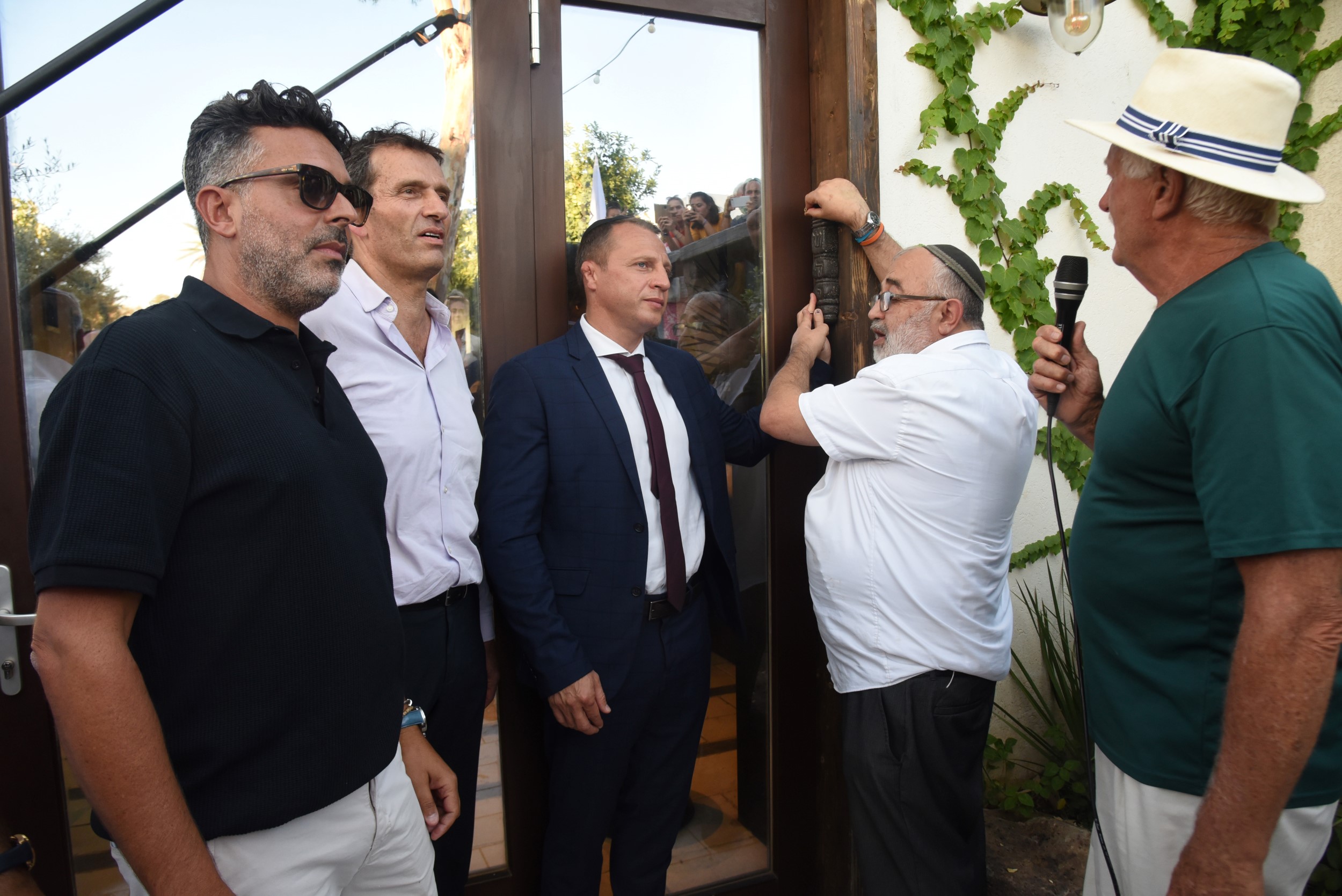 "I am excited and happy to inaugurate the Pereh Hotel at the intersection of the Customs House, which they have been working on for years"
Minister of Tourism, Commander-in-Chief of the Northern Command, Wnner of the Israel Prize Yehuda Harel, Nadia Cohen – Eli Cohen's widow, heads of the Golan Heights and North Israel councils, businessmen and senior officials in the tourism industry August arrived at the mezuzah ceremony at the new "Pereh" hotel, which will open to the general public at the end of August.
The event included a festive cocktail, a ribbon cutting and a tour organized by the entrepreneur Leo Glaser, together with the owners of the hotel, Yishai Malka. After setting the mezuzah, the hosts surprised the guests with a local celebration.
The Minister of Tourism, Yoel Razvozov, opened the event and said: "I am excited and happy to inaugurate the Pereh Hotel at the intersection of the Customs House, which they have been working on for years. It is a place with a strong statement and depth, which was established with a lot of thought and investment. We will continue to cultivate the Galilee and the Golan Heights, and invest in domestic tourism. The Pereh Hotel is an important enterprise and promises to continue to develop in the long run".
Amir Halevi, director general of the Ministry of Tourism, said: "The entrepreneur, Leo Glaser, had a vision about 19 years ago. Where we stand – 11 soldiers were killed then, in Syrian territory, and today we managed to build a hotel that will be a tourist center in the Golan and north". Halevi adds: "We understand that there is currently a lack of hotel rooms in Israel and therefore the Pereh hotel is on an advanced route to add another 60 rooms".
Entrepreneur Leo Glaser updated the guests and said: "In my opinion this is a historic event, we decided to turn the Customs house complex that was abandoned for decades into an internationally class hotel where we invested the best minds and used the best professionals in the world to establish the beautiful resort in Israel".
Yishai Malka, one of the hotel's owners said: "Today begins a one-time experience for all hotel guests. These buildings, their history, nature and the materials that surround us – all of these create a piece of hospitality experience that is nowhere else". Malka concluded by saying: "Pereh offers a variety of suites, located in 4 different buildings that preserve the foundations of the historic site, the Upper Customs House. The hotel will offer, among other things: a wine cellar, a restaurant by Chef Roi Dori, a luxury spa, a pool, a ballroom and orchards around".