IMTM lauded as hugely successful
With a record breaking number of exhibitors and visitors this year, Israel's largest tourism fair demonstrates its importance in the industry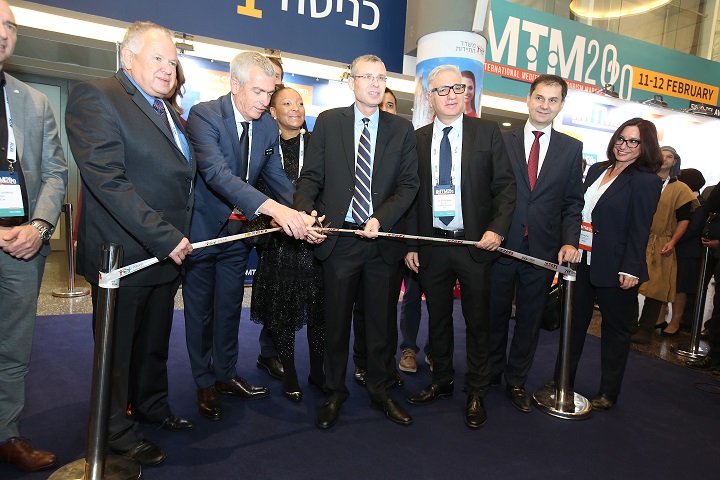 The IMTM International Tourism Exhibition opened for the 26th time with 570 exhibitors, the participation of over 50 countries, 207 pavilions, dozens of dignitaries and a record number of 23 ambassadors. Among the delegations participating this year were Taiwan, Japan, the Philippines, the Maldives, Vietnam and more.
Opening of the first day of the IMTM tourism fair, a festive ribbon-cutting ceremony was held to officially open the exhibition. Minister of Tourism Yariv Levin; Director General of the Ministry of Tourism, Amir Halevi; Director General of El Al Gonen Ussishkin; president of the Israel Hotel Association, Amir Hayek; chairman of the Israel Incoming Tour Operators Association, Danny Amir; and the IMTM International Tourism Exhibition's promoters, Eyal Shmueli and Lior Gelfand.
Levin said, "I am very happy to be here today and open IMTM 2020, the largest exhibition ever. I congratulate all the ministers who came to join us and wish everyone a successful and enjoyable exhibition."
Eyal Shmueli said, "We are pleased to conclude this year, with the 26th exhibition, a breaking record in tourism and the number of exhibitors who arrived. Israel is a major point in the global tourism industry, as Israeli tourism is sought after by countries around the world, and more and more countries see Israel as a business and an attractive platform as a whole. Now, they are here with the aim to close deals for the coming year."
IMTM is the annual and oldest event of the tourism industry in Israel and is held by Ortra Ltd. and Israel Travel News, in cooperation with the Ministry of Tourism, and is sponsored by the Israel Hotel Association, Israel Incoming Tour Operators Association, TA-Jaffa Tourism Association, El Al, the Travel Channel, and The Association of Travel Agents in Israel.
IMTM is intended for all players in the various tourism industries – domestic tourism, inbound tourism as well as countries and overseas tourism. The exhibition regularly features a wide range of Israeli exhibitors: tourism associations from all over the country, airlines, hotels, car rental companies, shipping companies, suppliers, services and attractions of various types in the field of tourism. The fair includes exhibitions, conferences, presentations and a program for agents, during which hundreds of decision makers from around the world market Israel as a tourist destination.