More than 320 Participators in the Incoming Tour Operators Association in Israel Convention
The virtual convention was held as part of the umbrella organization for the United Federation of Travel Agents – UFTAA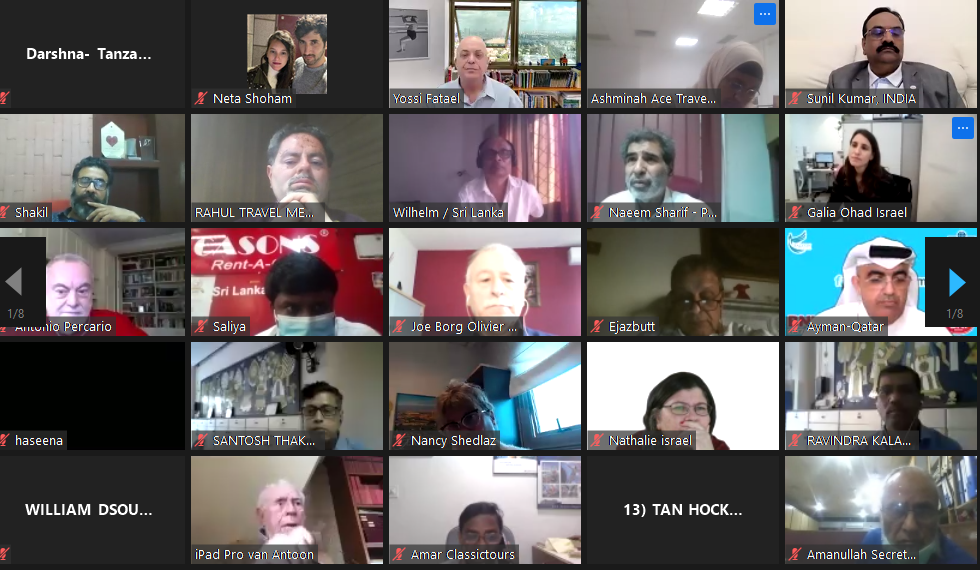 More than 320 representatives from 30 countries participated in a virtual convention hosted yesterday by the Incoming Tour Operators Association in Israel, as part of the United Federation of Travel Agents – UFTAA.
Among the countries that participated in the virtual conference held by the Association yesterday, included China, Spain, Canada, Malaysia, Indonesia, Pakistan, Qatar, Kenya, Italy, Nigeria, Sudan, Somalia, Cuba, Belgium, Brazil, Sri Lanka, Turkey, India, Malta, Mauritius, Tanzania, Malawi, Nepal, Singapore and the Philippines.
The Association's director general, Yossi Fatael, who also serves as the Federation's vice president and chairman of the Airways Committee, spoke at the conference about the organizational and operational challenges of managing passenger traffic around the world under new restrictions and requirements for testing and vaccinations.
As part of the convention, Fatael reviewed the existing projects in the world for digital passports and the lack of uniformity and coordination between governments, which will cause delays in driving world tourism, even after governments approve tourist traffic under restrictions.
Fatael also noted that the markets have not yet internalized the movement restrictions on movement of people in the world resulting from the decision of Western governments, mainly, not to allow tourists from countries vaccinated with FDA-approved vaccines (such as China, Russia, India, Cuba and more). In practice, classes may be created according to the types of vaccines and restrictions on movement. Moreover, the private market does not wait for governments and leads the standards and is already conducting experiments with digital systems that ensure the reliability of documents. Airlines are leading the field and governments will eventually be forced to adopt these standards.
Fatael added: "The situation according to which passenger traffic will be dictated according to the types of vaccines, creates a high motivation for counterfeiting and in practice the world immigration authorities have not yet developed interfaces for vaccination permit approvals and tests between countries.
During the convention, questions arose about the airlines and their central financial management system, which did not withstand the shock of the corona crisis and travel agents around the world were left with debts to their customers that were not repaid by the airlines' clearing system. Fatael reported that as part of the discussions of the UFTAA Joint Committee with the airlines, the UFTAA organization initiated a proposal to manage a zero-risk accounting system between the airlines. The proposal, which is under discussion these days, proposes to ensure that at no point and time will any of the parties owe money to another party. The recent crisis has revealed that in practice customers and travel agents around the world are billions of dollars in credit providers to airlines around the world (the initiative does not include Israel).