Anchors Aweigh: Seaports of the Holy Land
The new Bible Lands Museum exhibition presents rare prints, photographs, maps, and drawings from the 16th to early 20th centuries.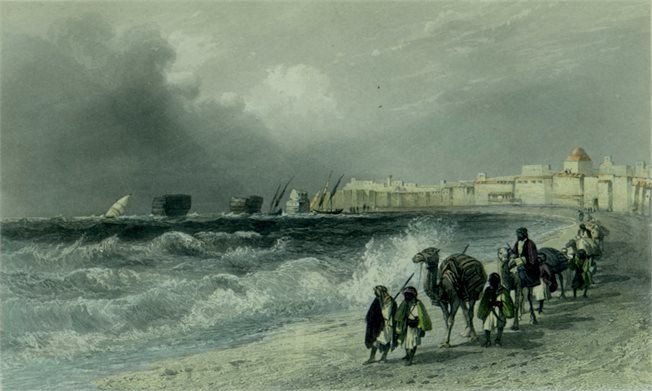 A new exhibition at Jerusalem's Bible Lands Museum, "Anchors Aweigh: Seaports of the Holy Land", presents images of the historical port cities – the points of entry to the Land of Israel – from the 16th to early 20th centuries. This extraordinary collection offers a glimpse of the country's ancient ports over hundreds of years, documenting their important economic and cultural roles, and bearing witness to the many different types of pilgrims, traders, and adventurers who risked their lives to reach the Holy Land.
Port cities in the Land of Israel had an important role throughout history. After the expulsion of the Crusaders in the late 13th century, European rulers gave up hope of ever re-conquering the Holy Land, and religious warriors were replaced by Christian and Jewish pilgrims. These pilgrims continued visiting ruined ports on their arduous journeys to holy sites. Many of them dropped anchor off the shores of Jaffa, which was called the "Port of Jerusalem," and from there embarked in convoys to the Holy City and other sites. The port of Jaffa grew in significance during the 19th and 20th centuries, when it became Palestine's primary point of entry under Ottoman rule, especially for the early waves of Jewish immigrants.
Long before photography was invented, engraving and printing were the primary means for people to experience the lands beyond their reach. The exhibition features fifty-four prints, maps, and sketches from the collection of Yossi Gilben, along with pictures from the collections of the late Dan Kyram. On display are prime works by artists, including David Roberts, William Bartlett, Henry Finn, and more.
The Collection of Yossi Gilben:
Most of the exhibition's prints and photographs come from the private collection of Yossi Gilben, whose life was profoundly influenced by the Mediterranean Sea. As a young teen, in the 1950s he had already sailed around the walls of Acre's Old City as a student at the Maritime Officers School. During his military service, he served on the destroyer, the INS "Yaffo," and fought in the Suez Canal during the Yom Kippur War. The story of Israel's ports are inextricably linked with the story of his life.