New Wing at Beit Hatfutsot - The Museum of the Jewish People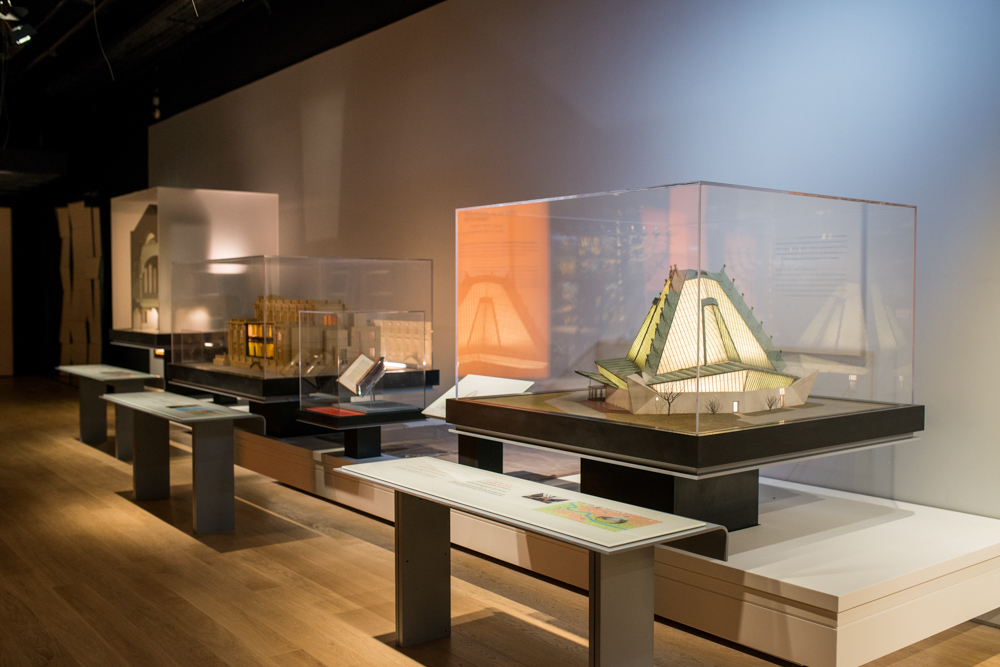 Beit Hatfutsot – the Museum of the Jewish People has completed phase one of its two-phase renewal campaign to present the story of the Jewish people through new multimedia and technology. Plans for the development were approved by the Israel Government five years ago, with a 20 percent share of the $100 million investment from both the Government and private donors injected into the 2200m² New Wing. The building is connected to the old museum, currently undergoing refurbishment, and it contains two permanent and two temporary exhibitions.
"Halleluja," in The Alfred H. Moses and Family Synagogue Hall, the largest of the galleries at 600m², displays 21 synagogue models, each of which reveals a glimpse into its individual functions, from weddings and Bar/Bat Mitzvah ceremonies to daily prayers and charity. "'Halleluja' is a permanent exhibition targeting people from all walks of life. The experience is enriched by new technology, which includes an interactive station to design and build you own synagogue and videos that capture ceremonies, prayers and other Jewish traditions," says Chief Curator Dr. Orit Shaham Gover.
The Tamar & Milton Maltz Family Gallery, which features 400m² of interactive exhibitions built around influential Jewish historical figures via interactive stations and animated videos, geared towards children, is showcasing "Heroes – Trailblazers of the Jewish People." "Our goal here, in the second of our permanent exhibitions," Shaham Gover explains, "is to expose visitors to the successes of over 140 diverse heroes throughout all facets of Jewish history. We want to encourage them to redefine their conceptions and interpretations of what qualities are attributable to heroes."
Two temporary exhibitions will run until April 2017. "Operation Moses" explores the lives of Ethiopian immigrants evacuated from Sudan during a famine in 1984 in a covert operation, to bring them into Israel; "Forever Young" celebrates the life of Bob Dylan on his 75th birthday, and the year of his winning the Nobel Prize in Literature, to chronicle the American songwriter and singer's influence on 20th-century culture, along with key aspects of his private life, based on three themes: social revolution; musical influence, and Dylan's complex connection with his Jewish identity.
Since its re-inauguration in May 2016, the museum has attracted its "biggest number of visitors in the past 30 years, with over 60,000 visitors, many of whom have returned. We owe this to the balance in knowledge, objects and multimedia that we offer throughout the experience," Shaham Gover states.
Audio guides are available in a range of languages, as are guided tours, private tours 15-pax minimum) and the free BH Museum app offering audio guide, videos, images and commentary.
The Core Exhibition 
Work on phase two has commenced, to renovate the old museum into the museum's Core Exhibition by 2019. Spread across three floors, exhibitions are to be considered in accordance with three guiding principles: a pluralistic approach; creativity and renewal; relevancy and identification.
"Our distinct approach will serve as a platform for exhibiting the history of Jewish life, in order to take our visitors on a journey that captures past and present elements of the story. Our artifacts, knowledge and technology fulfil our all-encompassing approach, to engage visitors, despite their personal backgrounds and beliefs, with a balanced view of Jewish roots, through contemporary design and state-of-the-art technology" Shaham Gover explains.
The renovation will feature 3500m² of permanent exhibition space. The layout is designed for visitors to commence their experience on the third floor, which provides insight into Jewish life from around the world as it is today; leading onto the second floor for an in-depth historical depiction of Judaism and its ongoing evolvement throughout populations and territories; ending on the first floor, which will examine the universal perspective and rituals of Judaism that have arisen from its ancient roots.
"We are developing our exhibitions in a format for visitors to learn, connect and feel. The Core Exhibition is a platform that tells the story of the Jewish people with a fresh dialogue and through new media. Combined with the new wing, Beit Hatfutsot will provide an all-inclusive experience that promotes and celebrates the relevance of Jewish heritage by identifying the entire picture through a diversity of forms."