A New Scenic Lookout at Mitzpe Ramon Crater
Minister of Tourism, Assaf Zamir: "The crater is one of the leading tourist attractions in the country"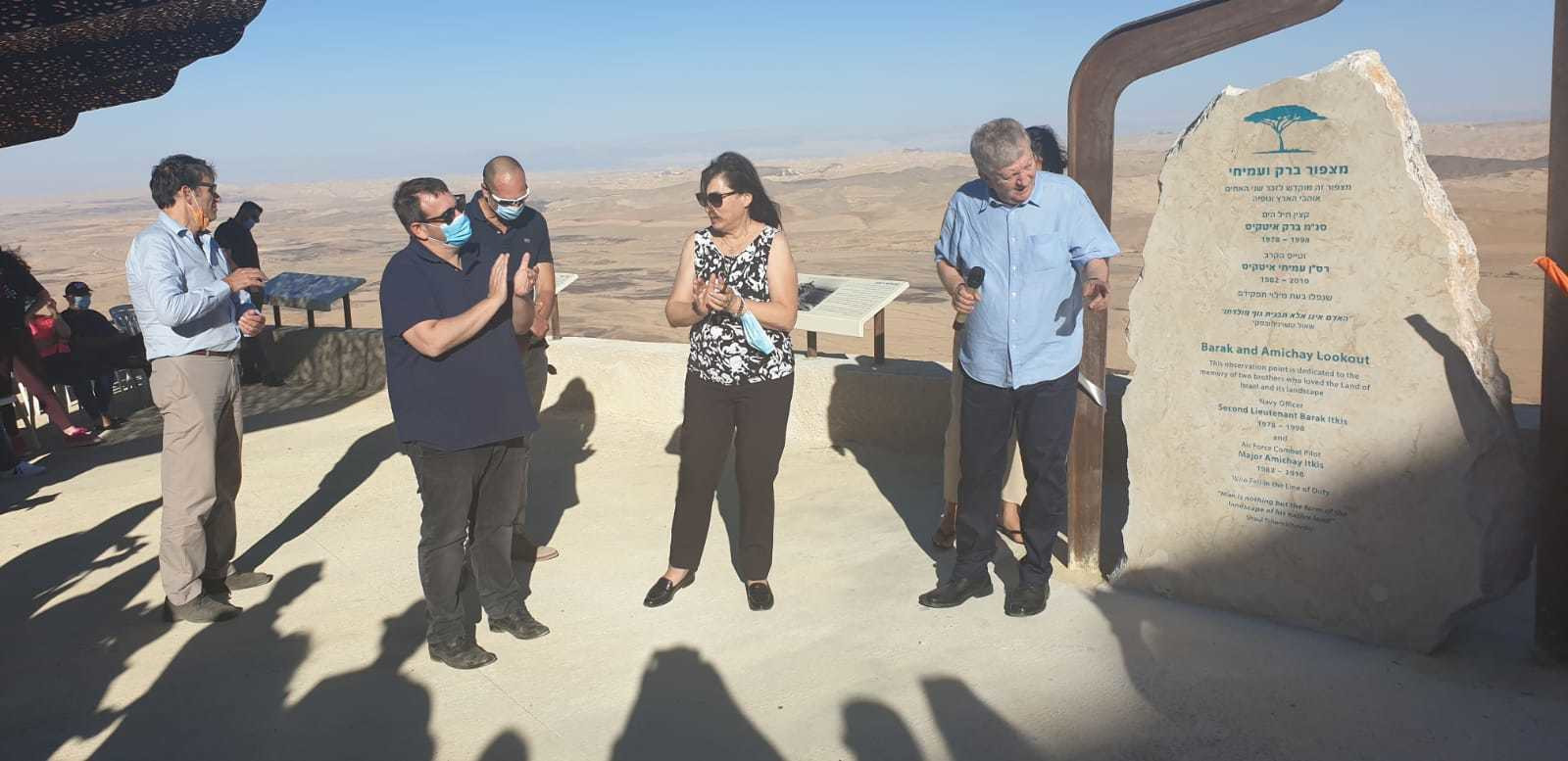 Minister of Tourism, Assaf Zamir, Director General of the Ministry of Tourism, Amir Halevi and Mitzpe Ramon Council Chairman Ronnie Merom, inaugurated the "Mitzpe Barak and Amichai" project, on Route 40 on the Ramon Crater.
The scenic lookout was set up by the Ministry of Tourism through the Government Tourism Corporation, and in collaboration with the Ittakis family, in memory of the Second Lieutenant Barak and Major Amichai Ittakis, who were killed while performing their duties. The scenic lookour, which cost 5 million ILS, was carried out in collaboration with a local council in Mitzpe Ramon.
Seating benches were set up on the spot, enabling travelers to stop for a refreshment in front of spectacular views of the crater. The crater is one of the leading tourist attractions in the country.
The design and execution of the excavation was carried out with attention to the integration of the project into the crater's panoramic image and preservation of the natural and environmental values. The materials and shades of the project components were selected inspired by the surrounding desert landscape. The scenic lookout fits in with the craters tourism spots, including the Sculpture Park set up by the Ministry of Tourism in 2019, a nearby Bereshit hotel and a rehabilitation and development visitor center, which included an access road and a hanging terrace (currently under construction and expected to open during the summer).
Due to the road embankment near the scenic lookout, traffic planning was done in conjunction with the Israel Highway and Israeli Police, slowing down traffic on the nearby road and safe entry into the road, improving national road safety, directional signage, parking and accessibility for people with disabilities.