150,000 expected to visit Israel during Christmas
Israel's Tourism Ministry will provide free shuttles for pilgrims between Jerusalem and Bethlehem.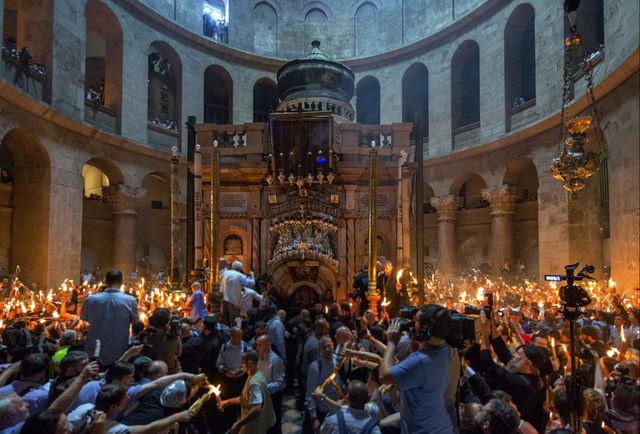 The Tourism Ministry is ready to welcome approximately 150,000 faithful expected to arrive in Israel for the Christmas period. From 14:00 on Christmas Eve (December 24) through to 02:00 on Christmas Day, the Ministry of Tourism will offer free shuttle transportation, helping pilgrims traveling between Jerusalem and Bethlehem. Buses will depart from the bus stop near the Carta Parking lot (opposite Jaffa Gate and near to the Mamilla Boulevard) and will stop near the entrance to the Mar Elias Monastery, and at the Rosmarin junction, before continuing via Rachel's Crossing to Bethlehem – and then back again.  There may be changes to the schedule due to demand.
The Tourism Ministry last week hosted the traditional annual pre-Christmas reception for Church leaders and members of the Christian communities in Israel. The Tourism Minister Yariv Levin shared seasonal greetings with the invited guests and members of the Christian churches. Also participating in the event were members of the diplomatic and representatives from the Christian tourism sector.
Minister of Tourism Yariv Levin said, "Israel is in the midst of a tremendous boom in tourism, and 2018 will set a new record for tourism to Israel. We will reach an all-time record of 4 million incoming tourists by the end of the year. The Holy Land will welcome all the tourists who come to visit!
Events in Nazareth:
Monday, 24.12.18
13:30  Traditional parade through the main street of Nazareth to the Basilica of the Annunciation
18:00  Firework display to open the festivities, courtesy of the Tourism Ministry
Tuesday, 25.12.18
10:00 Main mass in the Basilica of the Annunciation
Detailed information about Christmas services and festivities at the website of the Christian Information Center: http://www.cicts.org/default.asp?id=353
Statistics on Christian tourism:
According to Tourism Ministry statistics, more than half of all tourists who visited Israel in 2018 were Christian. Of these, about 19% defined themselves as pilgrims. Therefore, the ministry estimates that about 150,000 of all tourists in December are Christian.
56% of the approximately 4 million tourist entries (those staying at least one night) in 2018 were Christians. Of these, 41% were Catholic, 27% Protestants, 28% Orthodox. Among the Protestants, 80% were Evangelicals (who comprise 21% of all Christian tourists and 12% of all tourists) while 21% were from the mainstream and the Afro-American church. Among the Orthodox, 71% belong to the Russian Orthodox Church, and 29% to the Greek Orthodox and others.
19% of all visitors to Israel defined the purpose of their visit as pilgrimage. The vast majority of all Christian visitors visit Jerusalem, with about 40% visiting Tel Aviv-Jaffa. The most visited sites by Christians (by descending order) Church of the Holy Sepulcher, the Jewish Quarter, Western Wall, Via Dolorosa, Mount of Olives, Capernaum and Church of the Annunciation.