Israel honors Chinese tourists for 'Year of the Rat'
In 2019, there was a 49% increase in inbound tourism from China to Israel.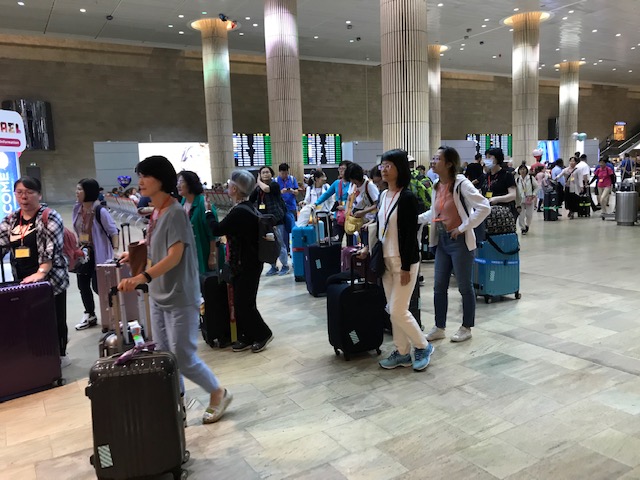 In honor of the Chinese Year of the Rat, which begins next week, the Ministry of Tourism is honoring Chinese tourists visiting Israel with specially-designed photo stands and greetings at tourist sites across the country. 2020 is the Year of the Rat according to Chinese zodiac. In Tel Aviv-Jaffa, in collaboration with the Tel Aviv Municipality, two photo frames were placed, one at the Jaffa vantage point overlooking the promenade, and one on the beach near the Old Railway Station complex. Large specially-designed beach chairs have been placed at Frishman Beach as well.
In Jerusalem, a New Year's greeting will be posted at the office's information bureau at the Jaffa Gate at the entrance to the Old City.
At the Dead Sea coast, a photo frame will be placed in the hotel area, in collaboration with the Tamar Regional Council.
In addition, at Ben Gurion Airport, a welcome film will be screened in Chinese.
Israel's tourism ministry branch in China shared the blessings by using the WeChat and Weibo platforms and encourages tourists to pose for the blessings, upload their photos, tag themselves on Chinese social media platforms and participate in award-winning sweepstakes.
China is the world's largest outbound tourism market. In 2018, more than 160 million Chinese tourists have traveled the world. The Chinese tourist spends the largest amount of all tourists visiting Israel, with an average of $ 230 per day (according to an incoming tourism survey by the Ministry of Tourism). The potential for bringing Chinese tourists to Israel is very large, so the Ministry of Tourism is investing heavily in developing this market.
Director General of the Ministry of Tourism, Amir Halevy said, "In the past year, there has been tens of percent growth in tourism coming from China to Israel. The impressive increase is the result of increased marketing efforts by the Ministry of Tourism in China. In view of the potential of tourism from China, in recent years we have expanded the number of flights from other destinations in China, launched huge social media campaigns, hosted opinion leaders and bloggers and opened another bureau in Shanghai to leverage tourism ministry efforts in more cities in China. In addition, we hired a new marketing company and started working in five more cities. We wish our Chinese friends a good Rat Year and look forward to further increasing tourist numbers from China."