Accommodation update in Israel
From the very North to the most southern point of Israel, visitors have a wide selection of accommodation options, some of which hold particular uniqueness to the country: hotels, boutique hotels, B&Bs, hostels, apartment rentals, camping grounds, cabins, kibbutzim (village settlements) and more.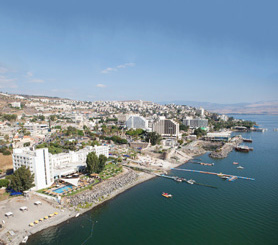 "The whole experience
resonated with the entire
group in so many ways.
It truly strengthened our
connection to the State
of Israel," says Sharon
Stevens, the leading
pastor of the tour. "It's
actually my fourth visit
to Israel, but this tour
was a far more focused
gathering that opened my
eyes to the diversity of
faiths across the country
and parallels between
special feat ures religions."
Alongside this growing pool, online travel agents are tailoring their products to cater to demand and remain competitive amid fluctuating trends. "Staying on top of the needs and wants of consumers is the real challenge for us as they change so frequently," says Booking.com Regional Director Andrea D'Amico. "We have to satisfy the needs across a diversity of segments, and understand what criteria are required in order to provide suitable options and support customers with superlative service."
Initially established as a site for hotel listings, Booking.com later diversified its product to offer a choice of over 2,400 properties across Israel. "Over half of these properties are alternative accommodations, as we see the demand for this kind of property increasing," says D'Amico. "Taking Tel Aviv as an example, many guests are booking an apartment in order to experience the city as a local and enjoy different cultural aspects. It's correlated to the ongoing rise of travelers who seek unique discoveries on their travels, and not just a tourist destination."
Trivago, a hotel meta-search engine, has similarly reported a shift in the types of properties visitors are searching. "We list over 4,000 accommodations in Israel and over the last year in particular, we have witnessed many more searches for Israeli destinations from users all over the world," says Rom Elyashiv, who handles country development for the Middle East & Africa. "We have identified this increased diversity in travel trends and invested effort into improving and enriching our content in Israel, which has a specific campaign that is focused and adapted to the audience."
However, despite an increased demand for alternative accommodations, hotel occupancy in Israel has maintained a steady market position, having peaked at around 70 percent in occupancy rates across the country during the last four years. Furthermore, over 1.8 million overnight stays, for both tourists and Israelis, were recorded this March, reflecting an 11% increase on March 2016 and 19% from March 2015. On a regional basis within Israel, recordings of tourist bed nights have also increased over the past year, with a 44% rise in Jerusalem, a 68% rise in Haifa and 38% increase in the Dead Sea, to highlight a few.
During 2016, around 30 new properties opened, with a f
urther 30 or more in various stages of development for operation in 2017 and 2018, reflecting over 8,000 new rooms and adding to the country's current total of approximately 370 hotels. As a result of the broadening spectrum across hotels, Israeli accommodations continue to diversify in correlation to the demand for property types, including budget, boutique and luxury categories.
As reported last year in Israel Travel News, the "Hotels Law" has set forth a plan to simplify the hotel building process, in a bid to introduce 15,000 new rooms within the next five years and a total of 27,000 within the next decade, further transforming the hotel industry from its current position. Factors attributing to a demand for additional supply include increased city break vacations; flexible working patterns; availability of budget flights and packages; a growing trend of experiential travel; and developments in technology making local and international travel more accessible than ever before.