Ambassadors of Nature and Heritage in Israel
The tour was initiated by the Director General of the Ministry of Tourism, Amir Halevi, and guided by Ati Koriat Aharon, a native of Tzipori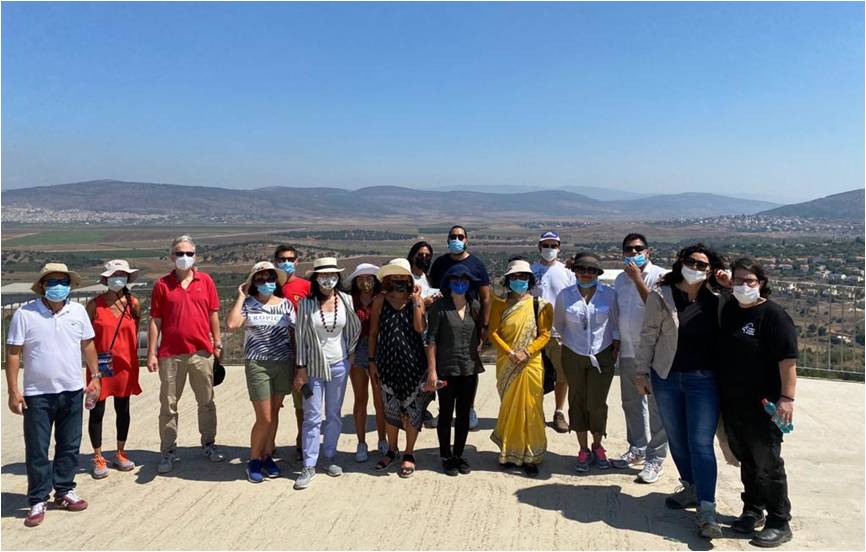 About twenty ambassadors and diplomats from foreign countries conducted a joint tour of Israel in the Tzipori National Park and the region, as part of a special initiative by the Ministry of Tourism and the Nature and Parks Authority, designed to reveal to them up close and experiential the beauty and unique heritage of Israel.
Among the ambassadors who took part in the tour are the ambassadors of the countries: Sri Lanka, Kazakhstan, Colombia, Thailand, Nepal, Vietnam, Ethiopia, as well as senior diplomats from countries: El Salvador, Austria, the Netherlands, Uruguay and Ukraine.
The tour was initiated by the Director General of the Ministry of Tourism, Amir Halevi, and guided by Ati Koriat Aharon, a native of Tzipori, a longtime employee of the Nature and Parks Authority in charge of information and community in the northern district of the authority and an expert in Tzipori's archeology. The Nile floor, the Roman villa with the beautiful floor of the Galilee, the Crusader fortress and a visit to the synagogue from the Byzantine period. At the end, the ambassadors finished with a visit to Ketron Winery with wine tastings and lunch.
This tour is the first in a series of special tours organized by the Ministry of Tourism and the Nature and Parks Authority for ambassadors. Subsequent tours are expected to take place in Caesarea National Park, the National Center of the Nature and Parks Authority for Sea Turtle Rescue and the Apollonia National Park. Later, the ambassadors of Panama and Ireland and other diplomats from Russia, Britain, Estonia, Latvia and Canada will also be on tours.