Campaign to Encourage Hotel Accommodation in Tel Aviv
The Tel Aviv-Jaffa Municipality and the Tel Aviv Hotels Association are launching a campaign that encourages hotel accommodation in the city with special benefits for the Israeli public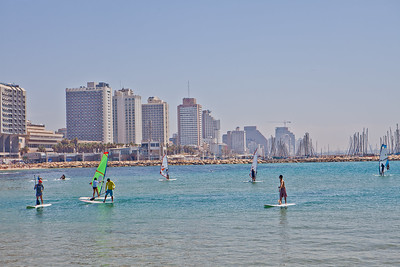 The Tel Aviv-Jaffa Municipality and the Greater Tel Aviv Hotels Association are launching a summer promotional campaign and a special benefits program as part of the city's "vacation in the city" campaign to encourage domestic tourism in Tel Aviv-Jaffa. People who will book hotels in the city during the campaign will enjoy free tours, 1+1 entry to tourist attractions, and the use of beach facilities and free bicycles.
The global marketing revolution carried out by the Ministry of Tourism over the last three years has brought an unprecedented surge in tourism to Israel and Tel Aviv-Jaffa in particular. The year 2019 was signed with 4.55 million tourists – an all-time high in tourism. Tel Aviv-Yafo hotels recorded 3.85 million overnight stays, of which about 2.95 million overnight stays by international tourists and another 900,000 stays by Israeli tourists. The average hotel occupancy rate was 76%, the highest since 2010.
The advertising campaign went live this weekend, and will be valid from June 18 through August 1, in tandem with the Ministry of Tourism's domestic tourism campaign. As part of the municipal campaign, dozens of hotels in the city will offer special offers and prices for Israeli holidaymakers, in addition to the hotel tourists who will also enjoy a benefit card.
Tourism Minister Asaf Zamir: "The Ministry of Tourism and the Hotel Association will continue to cooperate with the Municipality of Jaffa to promote tourism both during and after the COVID-19. This summer is a great opportunity for many Israelis who have not yet experienced and visited Tel-Aviv to discover everything the city has to offer and fall in love with it".
The list of hotels, tours and benefits will be listed on the visit-tlv.co.il campaign website.