Israel completes record year in tourism
The arrival of the 2018's 4 millionth tourist in Israel sums up a year of record-breaking tourism.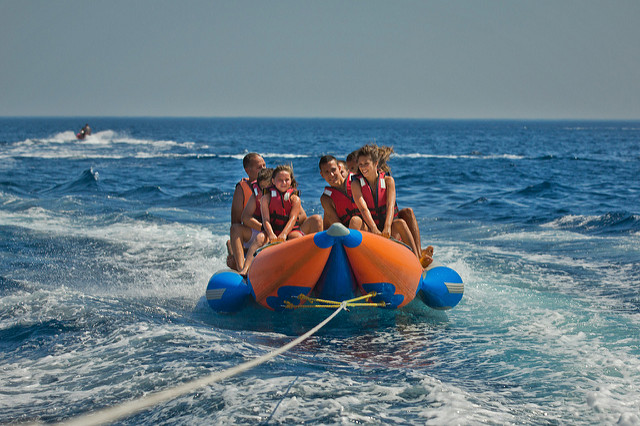 The arrival of Israel's 4 millionth tourist in 2018 represents yet another new record in Israel's tourism industry. This strengthens Israel's image around the world as a destination that attracts tourists from many countries and the fact that tourism is Israel's third-largest export sector.
Direct revenues from incoming tourism: NIS 24 billion.
An increase of approximately 13% in tourist entries on previous year and 38% on two years, while the global increase in tourism is estimated at only 4%. A significant increase, even in international terms.
Opening new direct routes with Tourism Ministry incentives from destinations with tourism potential – first route of foreign airline from South America, new route from New Delhi and dozens of routes from Europe.
40% of tourists in 2018 have already visited Israel.
A revolution in tourism infrastructure development – for the first time, efforts focused on large and significant projects. Development of the Dead Sea hotel area completed, and the Jerusalem cable car project approved and budgeted.
The Israel Tourism Ministry gave grants to entrepreneurs to build 3,829 rooms, 49% more than in 2017.
Advertising campaigns ran in USA, Germany, Russia, Italy, England, China, Ukraine, Brazil, Philippines and more.
Minister of Tourism Yariv Levin: "This historical record, of more than 4 million tourists in a year, is the realization of a decades-old dream of all those involved in the Israel tourism industry. Within two years, we have grown incoming tourism by 1.1 million, an increase of 38%, which is rare, even in international terms. This is the result of a significant revolution in marketing Israel which I have led that includes a shift in marketing strategy, the opening of dozens of new routes with the support of the Tourism Ministry and creating unprecedented collaborations with the largest travel agents in the world. Today, tourism makes a huge contribution to Israel's economy and employment and the many tourists who come here serve as ambassadors of good will."
In addition, leading international market research firm EuroMonitor named Jerusalem as the fastest-growing tourism destination in the world – more than any other city in the world. There is a marked increase in tourist entries to Israel, mainly from destinations in which the Ministry of Tourism has invested in marketing over the past two years. For example, there is a significant increase in the number of tourists coming from the United States (813,500), France (320,000), Russia (303,200), Germany 259,500, Britain about 200,000 and from China (about 100,000).
40% of tourists who arrived in Israel this year are returning tourists who have already visited Israel – proof that Israel is a desirable destination in the world. In 2018, 61% of all tourists were Christian, 22% were Jews, 12.1% were not affiliated, 1.8% were Muslim, 0.6% were Buddhists, 0.5% were Hindus, and 0.1% were Bahais and 1.7% others.
As in previous years, the Ministry of Tourism gave grants to entrepreneurs to encourage the establishment and expansion of hotels in various cities, from north to south. This year, NIS 145 million was allocated to help entrepreneurs build 3,829 new rooms, representing an annual year on year growth of 49%.
The Ministry of Tourism invested NIS 350 million in marketing Israel as a tourism destination around the world, including, among others, in the USA, Germany, Russia, Italy, England, China, Ukraine, Brazil, the Philippines, etc. This investment yielded an average increase of 13% in the number of tourists from those countries.
Levin also said, "I am excited to welcome next week Israel's 4 millionth tourist in 2018. This represents the unprecedented success of the Tourism Ministry, which invests in marketing Israel around the world, including collaborations such as with Carrefour, the largest retail chain in Europe, to market and sell Israel tourism packages; campaigns throughout the world; effective agreements signed with airlines and the opening of new direct routes into Israel from a variety of countries. This includes the latest agreement signed with the Philippine Minister of Labor to increase the quota of up to one thousand foreign workers in the hotel sector. All these are bearing fruit, and have injected more than NIS 20 billion into the Israeli economy so far this year and created thousands of jobs. We will continue to work to develop and increase incoming tourism to Israel."
In recent years, the Ministry of Tourism has been working to position Israel as one of the most sought after tourist destinations in the world and to increase the number of incoming tourists through a series of activities. These include, among others, encouraging new direct routes to open from new destinations with incoming tourism potential for Israel; a change in marketing strategy while placing the emphasis on leisure and good weather year-round; re-branding of the tourism product, including the development of tourism to the south and the development of tourism infrastructure in the desert; collaboration with the world's leading online travel agents such as Expedia; new aviation agreements and leveraging marketing opportunities such as the Giro d'Italia and the Eurovision.