Online travel agent Agoda unveils valuable insights ahead of IMTM
Digital travel platform Agoda has published valuable information that can help shape Israel's tourism industry.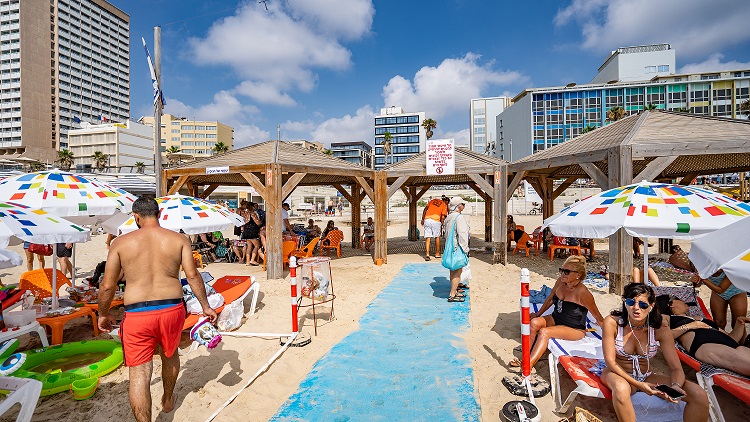 Global travelers took on average six trips in the last year according to Agoda, a digital travel platform. Agoda has unveiled insights from its Global Travel Usage and Attitude Survey, as it announced plans to expand in Israel ahead of its participation in the 26th International Mediterranean Tourism Market (IMTM) event in Tel Aviv.
In Southeast Asia, where Agoda is headquartered, the number of trips annually is seven, compared to travelers from United Kingdom, United States and Australia who traveled four times in the past year. Meanwhile in Israel, people traveled on average five times in the past year.
With 85% of people globally, and 84% of Israelis, indicating that they wish to travel even more often and Israel gearing up to attract more tourists following its record 4.2 million arrivals last year, Agoda, wants to build its number of accommodation partners in Israel to help its partners to leverage that growth.
Accommodation choices to suit different tastes and budgets
While scenery, sun-island-beach and food and dining topped the motivations to travel globally, the types of accommodations travelers were seeking varied. Globally one to three-star hotels were the most-booked accommodation (45%), especially among travelers from India (58%), Thailand (56%) and Vietnam (60%). Meanwhile, 43% have booked luxury hotel accommodation for their travels within the last year, with Chinese (49%), Indians (53%) and Israelis (51%) most likely to book in this product range.
Non-hotel accommodation will grow in popularity as vacation rental users is expected to hit 173.9 million by 2022*. Agoda's survey revealed 16% booked private homes and apartments in the past year, with Southeast Asian travelers like Singaporeans (28%) and travelers from the Philippines (25%) more likely than others to have booked this option. Non-hotel properties appeals to those traveling in a group, enabling them to stay together in one property, or to families or business travelers who appreciate home-like amenities during their stay.
With 84% of Israelis wanting to explore more of their own country, and 41% either somewhat likely or extremely likely to book private homes for domestic travel in the future, Agoda plans to work with a wide range of accommodation partners to cater to both international and domestic travelers.
"Agoda has a strong presence in Asia, and we know and understand the needs of travelers there. They are taking more frequent trips than the global average, and exploring beyond the region, looking for scenery and beaches, culture and heritage, remarkable food and dining – all of which Israel offers," said Omri Morgenstern, COO at Agoda.
"Agoda's technology helps hoteliers and accommodation partners reach those travelers. We currently have 8,000 Israel properties to millions of global travelers on our platform, but we want to on-board more accommodation partners from all across Israel, so that we can offer travelers a wider range of best value hotel and non-hotel accommodation options wherever these travelers might want to go, whether it's Haifa, Tel Aviv, Jerusalem or Eilat."
As an Agoda partner, accommodation providers will be able to take advantage of Agoda's best-in-class technology solutions to seamlessly manage their inventory and leverage in-depth analytics to improve conversion, and also benefit from Agoda' superior marketing optimization technology so even smaller businesses are able to target and market to the right traveler cost-effectively.
Accommodation owners who are interested to list their property on Agoda.com can easily register at Ycs.agoda.com.
As part of its expansion, Agoda will be participating IMTM 2020 in Tel Aviv on 11 Feb – 12 Feb 2020, and launching out-of-home, digital and cross-channel brand advertising campaigns across Israel in 2020.
Data at a glance – Agoda's Usage & Attitude Survey
Frequency of travel
• The average global traveler traveled six times annually
• Travelers from United States, United Kingdom travel four times, and Israelis five times in the last 12 months
• Travelers from the Philippines and Thailand took more trips, averaging seven times a year
Accommodation preferences
• One to three-star (45%), luxury four to five-star (43%), followed by boutique hotels (28%) are the three most booked accommodation types globally
• Israelis (51%) booked luxury hotels most often, followed by bed and breakfast (21%) and one to three-star hotels (20%)
• Chinese travelers are most likely to book Boutique hotels (48%)
• Indians (58%), Thais (56%) and Vietnamese (60%) booked most One to three-star hotels trips
• Hostels, the least booked accommodation type (10%), saw highest demand from Brazilians (15%), Filipinos (16%) and Thais (18%
Travel motivation
• Scenery (59%), sun-island-beach (55%) and food & dining (51%) are top 3 reasons to travel globally.
• Israelis were most motivated to travel for nature (63%), beach (54%) and shopping (52%)
• Getting close to nature and enjoying its scenery appealed most to travelers from China (66%), Brazil (64%), Philippines (64%) and Israel (63%)
• The beach life was most popular among travelers from the Philippines (66%), Brazil (65%), Canada (61%), Thailand(60%), China (60%) the US (58%) and UK (55%)
• Food and Dining were of utmost importance to travelers from Japan (67%), Hong Kong (67%), Korea (67%), the Philippines (65%) and Singapore (64%)