Record 40,000 runners to participate in Tel Aviv Samsung Marathon 2020
Over 2,600 international participants from other countries are set to take part in the race.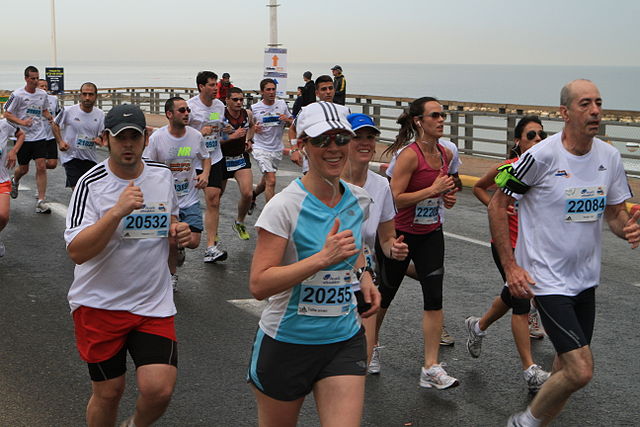 The Tel Aviv Samsung Marathon will take place on February 28, 2020. 40,000 runners will participate in Israel's biggest sporting event of the year. A record number of 2,600 international participants from Germany, Poland, Russia, US, UK, Italy, France and other countries are set to take part in the race, including a large delegation of elite international runners attempting to break the marathon record. The current record was set in 2015 by William Kiprono Yagon from Kenya at a time of 2:10:30. Any runner who succeeds in achieving a result of under 2:07:59 will receive $40,000.
This year, the Tel Aviv Marathon will take participants on a stunning 42km route winding its way through the beating heart of the city. The runners will take off at the Tel Aviv EXPO in northern Tel Aviv, continuing the route through many of the city's most celebrated neighborhoods, including Sarona, Rabin Square and Old Jaffa. The route also takes runners along the white sandy beaches of the Mediterranean Sea.
As in previous years, the Tel Aviv Samsung Marathon continues to support social and community engagement, encouraging marathon runners to participate and take advantage of their opportunity to raise funds for charity. On the official Tel Aviv Samsung Marathon website participants can choose from a list of more than 90 charitable organizations to support and can create a donation page to share with their friends, family and colleagues.
Ron Huldai, Mayor of Tel Aviv-Yafo: "The Tel Aviv-Yafo Municipality is proud to promote sports in the city. We are pleased that every year the number of international participants rises, placing the city as an important destination for marathon runners from Israel and abroad. We welcome the 2,600 runners joining us from abroad to participate in the unique experience."
The marathon heats:
Marathon – 42.195 km (kick-off time: 7:00)
Half-Marathon- 21 km (kick-off time: 6:15)
10 km race
5 km race
Hand-cycle race
Mini-Marathon for kids- 500m and 1km (Wednesday 26st, 16:00 at the Sarona Compound)