The 4 millionth tourist has landed in Israel!
Many tourists who arrived in Israel this year have already visited - proof that Israel is a desirable destination in the world.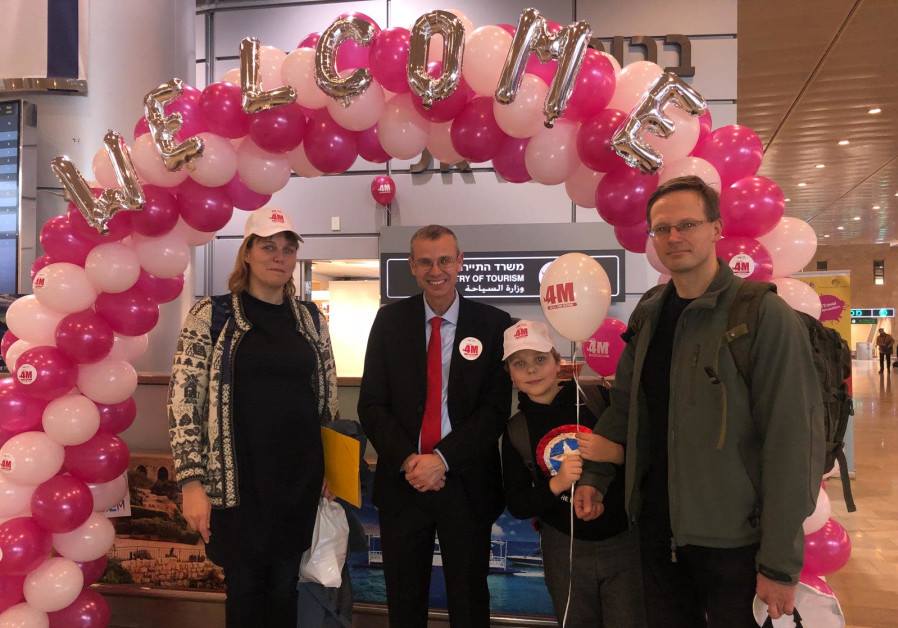 Over the weekend, the four millionth tourist to arrive in Israel this year landed at Ben-Gurion Airport. The tourist's arrival represents an all-time record in the Israel tourism industry, which has broken additional records throughout the past year.
Tourism Minister Yariv Levin said, "The celebration of Israel's tourism year in 2018 ends with another historic record of over 4 million tourists who visited Israel. The arrival of the 4 millionth tourist is the result of a revolution that the Ministry of Tourism is implementing in marketing Israel throughout the world, in a variety of campaigns, signing agreements with large companies and travel agencies and establishing connections with airlines. I am excited by the status, which shows that Israel is an attractive tourist destination that is generating a huge increase in revenues for the State of Israel."
Tourism Ministry Director-General Amir Halevi said, "This is the second consecutive record-breaking year in incoming tourism to Israel and this year we have crossed the threshold of 4 million tourists in a year. This is the result of hard and strenuous work in recent years, as part of a revolution in the way that Israel is marketed around the world as a tourist destination. What was considered a fantasy a few years ago is today a reality: Israel is a preferred tourist destination among tourism destinations around the world."
The arrival of the four millionth tourist to land in Israel in 2018 ends a year of record-breaking tourism figures. Direct revenues from incoming tourism in 2018 amount to approximately NIS 22 billion and there is an increase of 13% in tourist arrivals compared with the previous year. In addition, leading international market research firm EuroMonitor named Jerusalem as the fastest-growing tourism destination in the world – more than any other city in the world. In Israel, the most visited cities are Jerusalem with 2,016,900 overnight stays, Tel Aviv with 1,395,100 and Tiberias with 535,900.
40% of tourists who arrived in Israel this year are returning tourists who have already visited Israel – proof that Israel is a desirable destination in the world. In 2018, 61% of all tourists were Christian, 22% were Jews, 12.1% were not affiliated, 1.8% were Muslim, 0.6% were Buddhists, 0.5% were Hindus, and 0.1% were Bahais and 1.7% others.
As in previous years, the Ministry of Tourism gave grants to entrepreneurs to encourage the establishment and expansion of hotels in various cities, from north to south. This year, NIS 145 million was allocated to help entrepreneurs build 3,829 new rooms, representing an annual year on year growth of 49%.
There has been a marked increase in tourist entries from those countries in which the ministry invested in marketing. The Ministry of Tourism invested NIS 350 million in marketing Israel as a tourism destination around the world, including, among others, in the USA, Germany, Russia, Italy, England, China, Ukraine, Brazil, the Philippines, etc. The most significant increase in tourist entries came from the USA (813,500); France (320,000); Russia (303,200); Germany (259,500), Britain (200,000) and China (100,000).