History at Ben Gurion Airport for Air Cairo
The first flight of Air Cairo from Ben Gurion Airport to Sharm el-Sheikh took off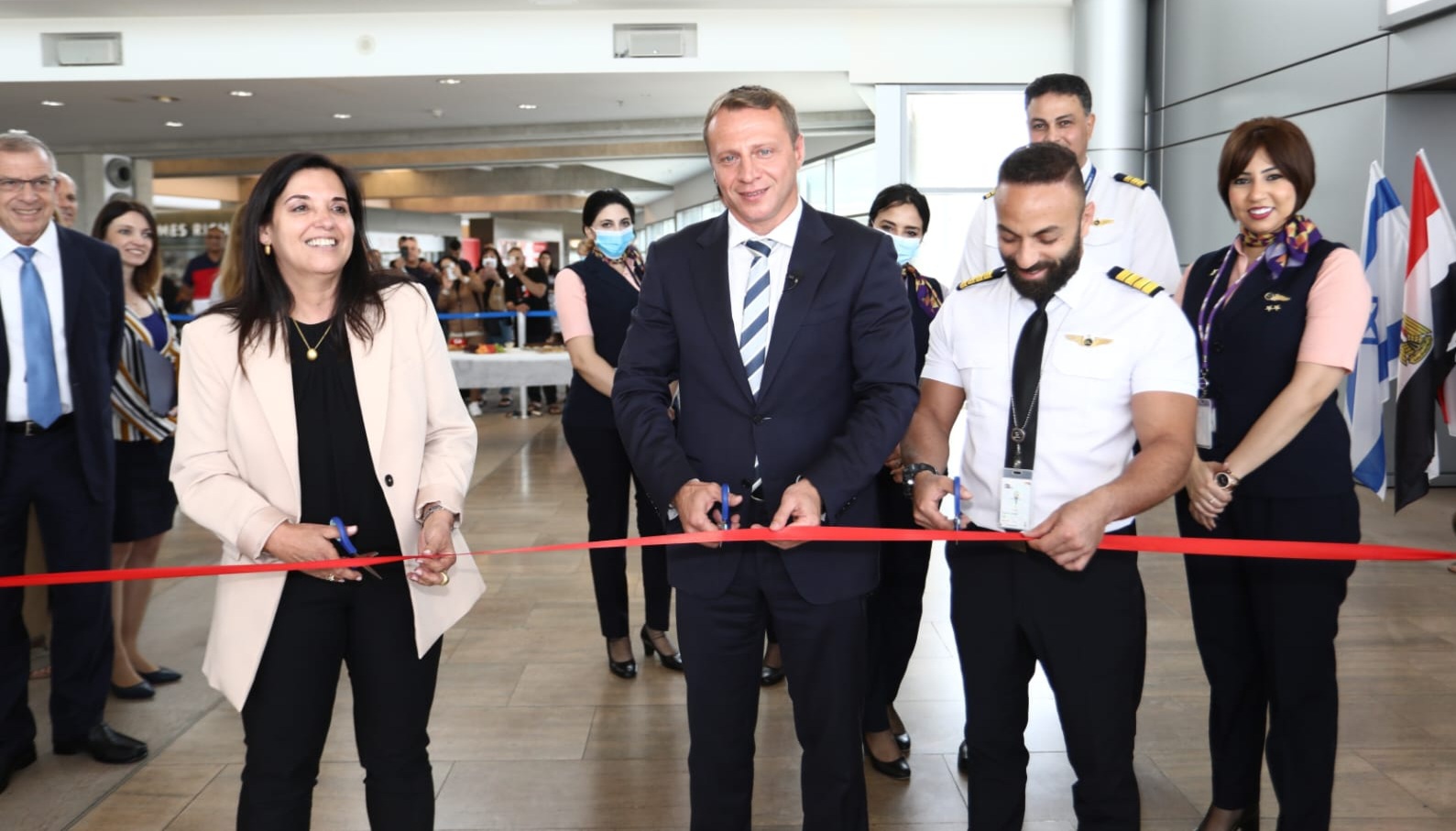 The first flight of Air Cairo, a subsidiary of Egypt's Egyptian Airline, took off from Ben Gurion Airport for Sharm el-Sheikh, with about 170 Israelis on board at one of the dozens of hotels and holiday villages. This is the first time that an Egyptian company plane has flown holidaymakers directly from Ben Gurion Airport to Sharm el-Sheikh.
The historic flight, inaugurated by Tourism Minister, Yoel Razvozov, will take place three times a week, on the state-of-the-art Airbus 320. It is carried out in accordance with the bilateral agreement initiated by Israeli Prime Minister Naftali Bennett with his Egyptian counterpart, President Abdel Fattah Saeed Hussein Khalil el-Sisi.
"Tourism is the head of a bridge for the creation of diplomatic ties between the countries", said Tourism Minister Razvozov at the ceremony, "The historic peace agreement with Egypt, followed by the agreement with Jordan, and the Abraham agreements with the Gulf states – are the ones that led to the tourist cooperation pouring the bridges between the countries. Operating a flight line between Ben Gurion Airport and Sharm el-Sheikh is a good example of establishing these ties".
Hanny Sobol, Chief Executive Officer of Diesenhaus-BTC, said about operating the direct line between Israel and Sharm el-Sheikh would allow tens of thousands of Israelis to get off and vacation in their all-time favorite place.
"We are seeing a lot of interest from Israelis who want to go on vacation in Sharm el-Sheikh, and as seen, the first flight was filled to capacity with 170 Israelis and their families who went down to Sharm el-Sheikh for vacation".
Diesenhaus-BTC is the sole representative of the Egyptian airline Air Cairo, which will operate three weekly flights on this route. Diesenhaus-BTC is already offering Israeli vacationers vacation packages at dozens of hotels and resorts in Sharm el-Sheikh, including water parks, at prices (including flights) starting at 630 USD per person in a double room for a weekend.