Tourism in Israel: More than 1M Tourists in 2022
The one millionth tourist to Israel so far this year lands at Ben Gurion Airport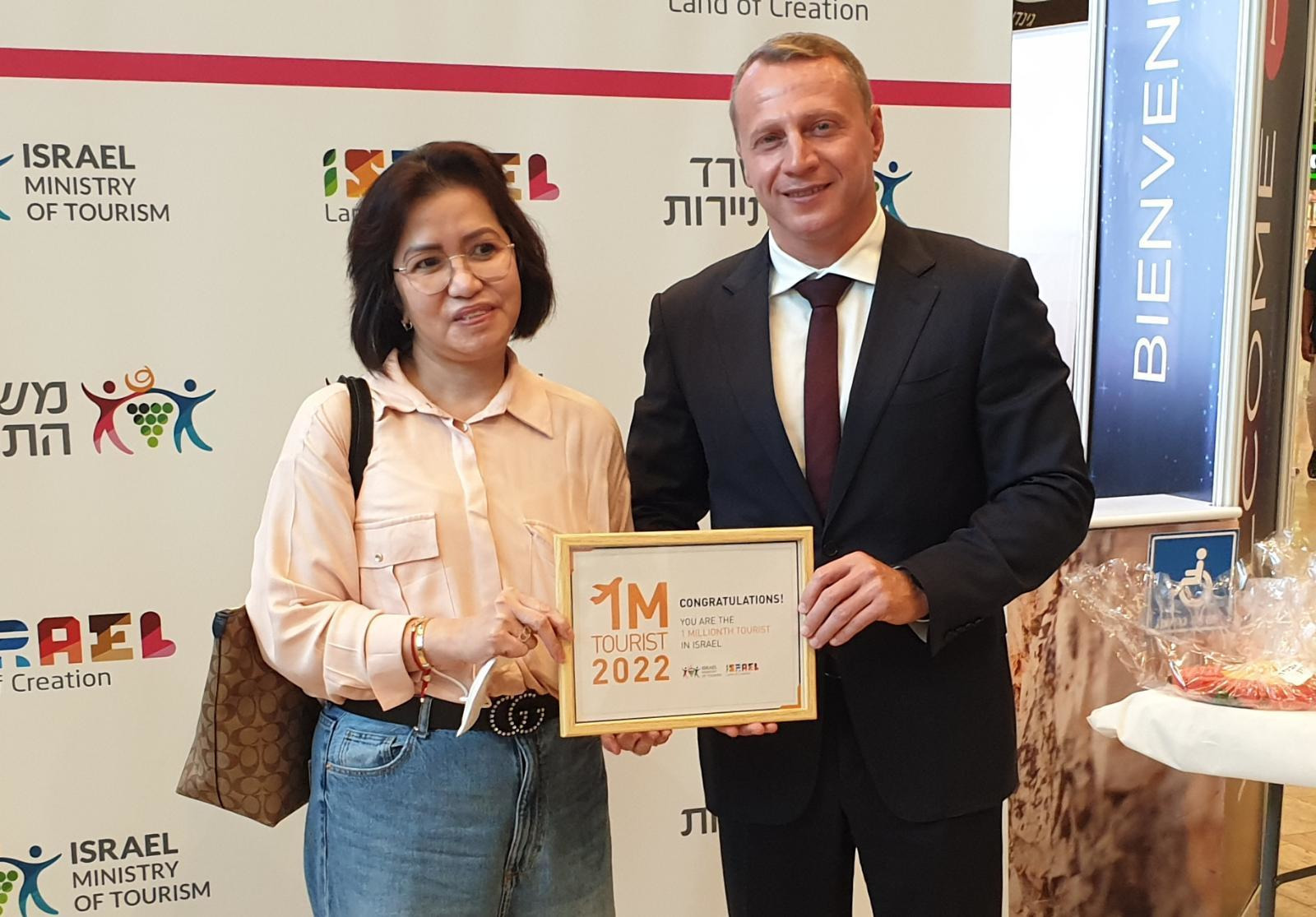 "At first, we thought and hoped that the President of the United States Joe Biden would be the millionth tourist to arrive in Israel in 2022, but once again, we have beaten the forecast,"
Belinda Desoyo Lee Marcelo, 53, a resident of the United Arab Emirates, was welcomed to the country by Tourism Minister, Yoel Razvozov.
"At first, we thought and hoped that the President of the United States Joe Biden would be the millionth tourist to arrive in Israel in 2022, but once again, we have beaten the forecast," says Razvozov in a statement from his ministry. "Here we are, welcoming the millionth tourist to enter Israel this year. Last year, our skies were closed, there were corona restrictions in place with new variants emerging, and serious concerns about incoming tourism. Despite the situation, we did not give up, at any stage. We worked hard to open up the industry and we brought the tourism industry back to life in spite of the challenges".
In January, Israel reopened its borders to fully vaccinated foreigners after shutting during the Omicron variant, in March it allowed unvaccinated tourists to enter, and in May it ended all COVID testing for arriving passengers.
252,300 overseas visitors came to Israel in June 2022, compared with 384,000 in June 2019, before the Covid pandemic, the Central Bureau of Statistics reports. Only 1 million tourists visited Israel in the first half of the year.
The number of visitors to Israel in June was down from May 2022, when 262,700 visitors entered the country, although May is traditionally a more popular month for tourists to visit Israel than June, with 465,700 visitors entering the country in May 2019.
n all of 2021 only 402,300 tourists visited Israel, while 887,100 tourists came in 2020 after a record year in 2019 when 4.5 million foreign tourists came to Israel. The country was closed to foreign tourists from mid-March 2020, except for visitors with special permission to enter, due to the Covid pandemic, re-opening briefly in November 2021, before closing again in December 2021 due to the spread of the Omicron variant.
Israel reopened to fully-vaccinated foreign tourists on January 9, 2022 and to all foreign tourists on March 1. In January 46,700 visitors entered Israel, 90,400 in February, 168,900 in March, 216,400 in April and 262,700 in May. In total 1.037 million foreign tourists entered Israel in the first six months of 2022.
Meanwhile, the number of Israelis travelling abroad has almost reached pre-Covid levels. In June 2022, 766,700 Israelis traveled abroad compared with 837,400 in June 2019.