Yaacov Agam Museum: Hearing the Colors
The exhibition "Hearing the Colors" at the Agam Museum invites visitors to a unique, surprising and fascinating experience that blends the various senses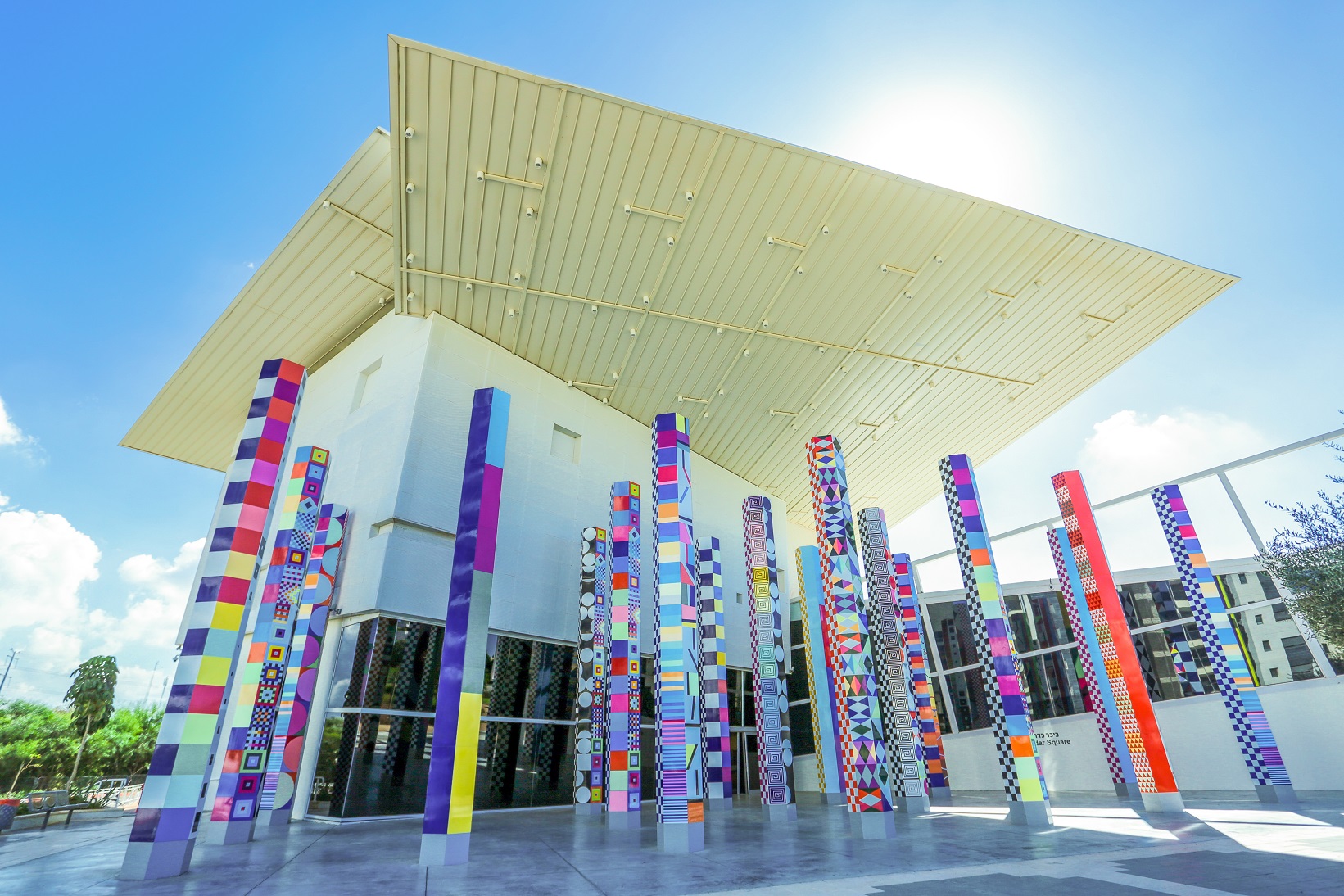 Real sounds blend between the artwork in the sound work and the museum space. Viewers are invited to discover the music in the art, observe the voices and listen to the colors.
The Yaacov Agam Museum of Art has recently opened in Rishon LeZion, the hometown of internationally acclaimed Israeli artist Yaacov Agam.
Located in Israel's fourth largest city, just 10 minutes south of Tel Aviv, the museum is a joint initiative of the Rishon LeZion municipality and the father of the Kinetic Art movement. The museum will showcase six decades of Agam's groundbreaking artistic research, presenting temporary exhibitions and permanent displays of some of his most important artworks, coming from prestigious collections and museums worldwide.
Yaacov Agam's art, which engages and fascinates all ages and audiences, from curious tots to sophisticated art enthusiasts, spans a breathtaking range of artistic expressions, – transformable sculptures and paintings, polymorphic relief paintings, interactive digital art, objects and installations amongst others. At age 90, Agam continues to renew himself with untiring energy and aims to establish the museum as the worldwide center of his artistic philosophy and award winning Visual Education Method, as well as one of only a few museums dedicated to Kinetic Art.
The Agam Museum offers us the opportunity to see "beyond the visible" and experience art that reflects reality as a "constant being" – irreducible to any single appearance in time or space – a reality whose most constant aspect is Change. Each visitor is thus invited to explore and actively interact with Agam's multifaceted and ever -changing artworks, immersing themselves in what the artist calls the 4th dimension – the dimension of time and movement, change and the unexpected.
Designed by celebrated architect David Nofar, and surrounded by a Sculpture Garden, the museum's 3,200 square meter exhibition space and complex architecture invites for a meditative and awe- inspiring visit. Gracing the entrance of the building, the lobby and central hall are , Agam's Pillars of Clila,– named after his late wife and courtesy of the Kadar Family and Naomi Foundation. Featuring 29 intricately designed columns combining the partition between inside and outside. Visitors who wander through this majestic work of art experience a vibrant visual symphony where each step s reveals news motifs leading from the shaded external plaza to the main exhibition hall.